Kimmey Dean Hobbs
Specialist Four
HHT, 1ST SQDN, 1ST CAV RGT, 196 INF BDE
Army of the United States
07 June 1947 - 10 April 1968
San Antonio, Texas
Panel 49E Line 011
The database page for Kimmey Dean Hobbs
20 Oct 2003

You were the first Blackhawk that I visited on my first trip to the Wall.

From a fellow Blackhawk medic,
Bob "Doc" Kelly
lib196bob@aol.com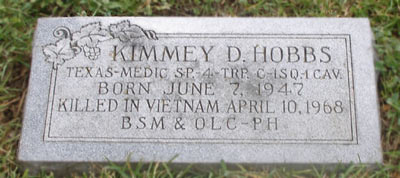 17 Jul 2004

Kimmey Dean Hobbs was the Medic on the Armored Personnel Carrier that I commanded on 10 April 1968. He was one of 5 killed in action on that day. For reasons known only to God, I survived. Since then, I have tried to "earn" my survival by honoring my fallen crewmates and veterans in general.

Kimmey Hobbs was a gentle, dedicated and talented Medic. He worked feverishly to save casualties from both sides of the fight; friendly or enemy. He was taken from us to soon.

Rest in Peace, Doc.

From a comrade-in-arms,
Michael A. Colicchio
33 East 27th Street, Bayonne, NJ 07002
mikevva@aol.com

A Note from The Virtual Wall
SP4 Hobbs was with C Troop, 1/1 Cavalry, at the time of his death. The Virtual Wall can identify four men from C Troop, 1/1st Cavalry, who were killed in action by an explosive device on 10 April 1968:
1LT Ronald J. Wojtkiewicz, Omaha, NE
SP4 Kimmey D. Hobbs, San Antonio, TX (Medic from HHT 1/1)
PFC Willie E. Glover, Marietta, GA
PFC Allen D. Hanlan, Cleveland, OH
SP4 Quillard F. Lyons of De Ridder, Louisiana, died of wounds on 13 Apr 1968 and may be the fifth man mentioned by Mr. Colicchio; his casualty record indicates his wounds were caused by an explosive device.
Visit John Dennison's
Medics on the Wall
memorial which honors the
Army Medics and Navy Corpsmen who died in Vietnam.
The point-of-contact for this memorial is
a fellow Blackhawk medic,
Bob "Doc" Kelly
lib196bob@aol.com
20 Oct 2003
---
With all respect
Jim Schueckler, former CW2, US Army
Ken Davis, Commander, United States Navy (Ret)
Last updated 11/24/2005