Edward Joseph Hogan
Specialist Four
2ND PLT, D CO, 1ST BN, 501ST INF RGT, 101 ABN DIV
Army of the United States
03 September 1948 - 21 May 1969
New York, NY
Panel 24W Line 067
The database page for Edward Joseph Hogan
04 Oct 2002

Ed and I served in Nam together. He was my best friend. I always felt safe when Ed was watching my back. He was brave, reliable, funny, and did card tricks! (That's why no one would play cards with him for money!!) Ed was the kind of guy who would share anything he had with you, from a smoke to the care packages he got from home. He died while trying to rescue members of our platoon who were trapped in an ambush.

Not a day goes by that I don't think of and miss my friend Ed.


---

The photo above shows Ed in a Bhuddist temple.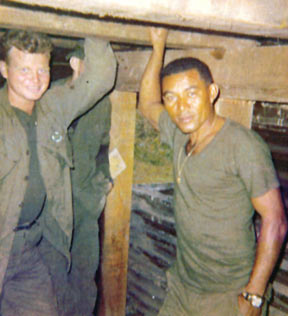 This photo is of Ed and Sergeant First Class Pedro A Rios.
The point-of-contact for this memorial is
a friend and Comrade in Arms,
Harvey (Sully) Sullivan
wizzz45@sprintmail.com
4 Oct 2002
---
With all respect
Jim Schueckler, former CW2, US Army
Ken Davis, Commander, United States Navy (Ret)
Channing Prothro, former CAP Marine
Last updated 10/04/2002