SP4 Holcomb's name on the Wall in Washington D.C.
Jennie and Charles H Burchett spent most of their lives in Bellingham Washington. They had 3 children to raise - Leonard (1904), Matie (1908) and Clara (1920). Charles spent many years as a logger.
Hazel Dell Brand and Allan A Holcomb also married and spent part of their lives raising at least one child, Robert Horton Holcomb (Sep 9, 1920) in the Bellingham/Ferndale Washington area. Allan served as a Corporal in the Army Transportation Corps during World War I.
It is unknown when Clara Burchett met Robert Holcomb, but ultimately they would marry. Like his father Allan, Robert served in the Army, near the end of World War II, from January 1945 until July 1946. Robert had been working for the Milwaukee Road (railroad) in the Coastal Division, Beverly Washington area when he went into the service.
A January 1945 article from the Milwaukee Road magazine noted that their son, Robert, age 2, was saved by a 5 year old just as he was about to fall into an abandoned 20 foot deep cesspool when they lived in Beverly Washington area. A later article in March 1945, stated: Robert H was picking up another former Milwaukee Road brakeman and transporting themselves to Fort Lewis, Washington. "Mrs. Holcomb and small son would make their home in Bellingham" the article concluded. Robert was first born of 4 sons - Robert, Daniel, Thomas, and James.
Daniel Jennings Holcomb was born June 20, 1945 in Bellingham Washington. After his father's return home and continued employment by the railroad as an agent in Bellingham, the famly moved to Great Falls Montana in September 1955 for a promotion to City Freight and Passenger Agent at the larger station. The family lived there until they moved to Buena Vista in 1962, when Robert may have been promoted from Sales Representative to another position in California. Daniel had attended the Great Falls Montana HIgh School but moved in 1962-63 before he graduated.
Daniel entered the Army from Buena Park California at some time before March 1966 in order to complete Basic and Advanced Individual Training prior to his deployment to Vietnam on November 29, 1966.. On arrival in Vietnam, Daniel was assigned to the 1st Cavalry Division and ultimately sent to Charlie Company, 1st Battalion, 5th Cavalry Regiment. He was trained as an Indirect Fire Infantryman, or mortar crewman.
During the period November 1, 1966 to January 31, 1967, the 1st Cavalry Division was engaged in contact with regular North Vietnam Army (NVA) and Viet Cong (VC) units throughout the II Corps Tactical Area of Operational Responsibility (TAOR). The division was deployed in the central highlands of South Vietnam, maneuvering throughout the Binn Dinh, Pleiku, Kontum, Darlac, and Phu Yen Provinces. Operations extended from the South China Sea to the Cambodian border along the axis of Highway 19, from North of Bong Son to Qui Nhon along the South China Sea and from Dak To to Ban He Thout along the Cambodian border.
Operations were characterized by hard hitting infantry relying extensively on the division's air assault capability. During most of the period, two brigades operated away from the Division Base, while the other brigade conducted offensive operations within the TAOR and improved base security. Missions during the period were search and destroy with the emphasis on searching and finding the enemy.
The division concluded Operation Paul Revere IV (27 December 1966 ending) along the Cambodian border and continued to support Operation Thayer II along the coast. The base configuration of the 1st Cavalry Division during the period consisted of 1st Brigade with 1st Battalion, 12th Cavalry; 1st Battalion, 8th Cavalry; and 2nd Battalion, 8th Cavalry. The 2nd Brigade (Paul Revere) was supported by 1st and 2nd Battalions of the 5th Cavalry Regiments and the 2nd Battalion, 12th Cavalry while the 3rd Brigade encompassed the 1st, 2nd, and 5th Battalions of the 7th Cavalry. Units were moved from operational control of one brigade to another, depending on circumstances, througout the period of operations.
During the month of March and especially March 20 -21, the 1st Cav lost 34 men killed in action in fighting around LZ Sand. The 1st Battalion 5th Cavalry Regiment lost 10 of their men on March 21, 1967, including SP4 Daniel J Holcomb. The names of the men lost by the 1st Battalion, 5th Cavalry are:
The Announcement in Great Falls, Montana announcing Daniel's death as a former resident:
The announcement in Bellingham, Washington was similar in nature, announcing Daniel's death as a former resident: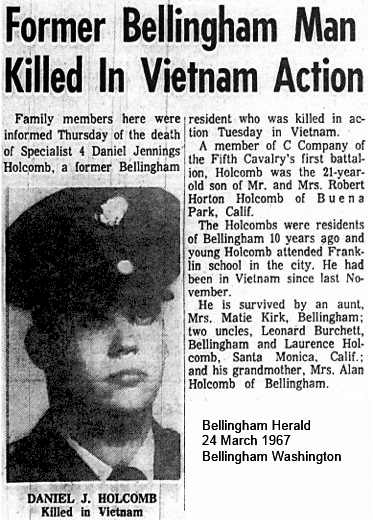 SP4 Daniel Jennings Holcomb was laid to rest, as was his mother in 1992, in Greenacres Memorial Park, Ferndale, Washington. In addition, his paternal grandparents, Hazel Dell (Brand) and Allan Angus Holcomb are also buried there. His maternal grandparents, Jennie and Charles H Burchett are interred in Woodlawn cemetery, Ferndale, Washington.
SP4 DANIEL J HOLCOMB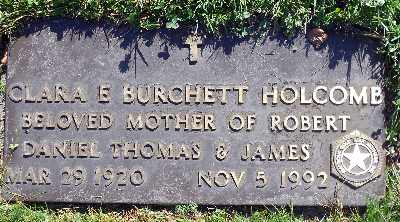 Note 4 Sons of Mrs Holcomb - Daniel and his 3 brothers
- - -The Virtual Wall, April 26, 2014