Homer Warren Hollister
Corporal
K CO, 3RD BN, 5TH MARINES, 1ST MARDIV
United States Marine Corps
27 June 1948 - 02 February 1969
Moscow, Pennsylvania
Panel 33W Line 040
The database page for Homer Warren Hollister
A Note from The Virtual Wall
On 02 Feb 1969 Kilo Company 3/5 Marines was participating in Operation TAYLOR COMMON along the Vu Gia River west of the An Hoa Combat Base. The following exerpts are scanned from the 3/5 Operations Log for 02,05, and 07 Feb respectively: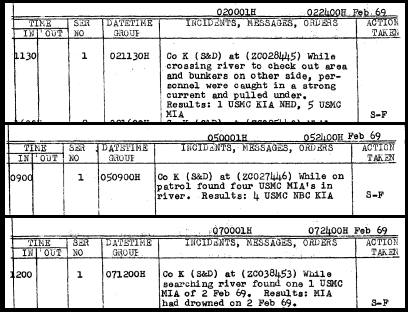 Six Marines were swept away during the river crossing on 02 Feb; one body was recovered. On 05 Feb four bodies were recovered in the incident area, and the last was found about a mile downstream on 07 Feb. The six men were
SSgt James B. White, Philadelphia, PA;
Cpl Homer W. Hollister, Moscow, PA;
LCpl Randall L. Jenkins, Columbus, OH;
Pfc Leroy B. Daniels, Pittsburgh, PA;
Pfc Theodore M. Rush, Birmingham, AL; and
Pfc Ray M. Williams, New Orleans, LA.
The point-of-contact for this memorial is
a friend,
Edward Pitcavage
LCDR USN (Ret)
userdale7865@aol.com

---
With all respect
Jim Schueckler, former CW2, US Army
Ken Davis, Commander, United States Navy (Ret)
Memorial first published on 27 Jan 2003
Last updated 11/04/2007