Tommy Bryan Hosey
Private First Class
C CO, 2ND BN, 39TH INF RGT, 9 INF DIV
Army of the United States
29 September 1947 - 01 June 1968
Stringer, MS
Panel 61W Line 002
The database page for Tommy Bryan Hosey
30 Dec 2003

Private First Class Tommy Hosey was presented the following awards posthumously: the Silver Star, Bronze Star, Purple Heart, Good Conduct, Combat Infantryman, National Defense Service Medal, Vietnam Service Medal, Vietnam Campaign Ribbon and the Sharpshooter Badge with rifle bar.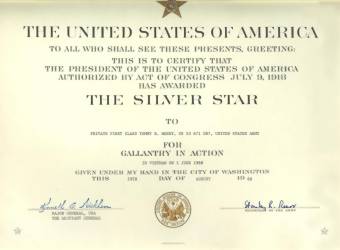 Headquarters
9TH INFANTRY DIVISION
APO San Francisco

GENERAL ORDERS

AWARD OF THE SILVER STAR
1. TC 320. The following AWARD is announced posthumously.
HOSEY, TOMMY BRYAN 53671087 PRIVATE FIRST CLASS INFANTRY
Company C, 2d Battalion, 39th Infantry
| | |
| --- | --- |
| Awarded: | Silver Star |
| Date action: | 01 June 1968 |
| Theater: | Republic of Vietnam |
| Reason: | For gallantry in action against an armed hostile force: Private First Class Tommy Hosey distinguished himself by exceptionally valorous actions on June 1, 1968 while serving as a rifleman on a reconnaissance in force mission in Plain Reeds, Vietman. Immediately after landing, the company came under intense automatic weapons fire from a battalion of Viet Cong in an adjacent enemy bunker complex. The Company commander and several squad leaders were wounded during the first few moments of contact. Completely disregarding his own safety, Private Hosey attempted to reorganize his squad for an assault on the enemy bunkers. Jumping up from his concealed position, Private Hosey aggressively charged the fortifications and although he received several wounds in the process, continued his assault. Private Hosey maintained contact with the enemy until he was wounded by hostile fire. His extraordinary heroism in close combat against Viet Cong forces was in keeping with the highest traditions of the military service and reflects great credit upon himself, his unit, and the United States Army. |
| Authority: | By direction of the President under the provisions of the Act of Congress, approved 9 July 1918, and USARV Message 16695, dated 1 July 1966. |
A Note from The Virtual Wall
C Company, 2/39th Infantry, lost eight men killed in the engagement described above:
2LT Michael P. Hourigan, Santa Rosa, CA
SGT Rudy M. Oliveras, Colton, CA
SP4 Paul Belchak, Chicago, IL
CPL William J. Carpenter, Butler, GA
CPL Richard K. Taylor, Los Gatos, CA
CPL Steven D. Townsley, New Carlisle, OH
CPL Otis Turner, Mount Pleasant, TX
PFC Tommy B. Hosey, Stringer, MS
The point-of-contact for this memorial is
his father and mother,
Frank and Bonnie Hosey
Stringer, Ms
bonniehosey@webtv.net
31 Dec 2003
---
With all respect
Jim Schueckler, former CW2, US Army
Ken Davis, Commander, United States Navy (Ret)
Channing Prothro, former CAP Marine
Last updated 01/13/2004