Harold Dean Housker
Corporal
D CO, 1ST BN, 506TH INF RGT, 101 ABN DIV
Army of the United States
05 February 1948 - 26 November 1968
Mabel, Minnesota
Panel 38W Line 066
The database page for Harold Dean Housker
01 April 2004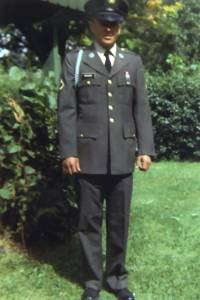 Although I think about you, Harold,
Each day throughout the year,
On Veterans' Day I miss you most
And wish that you were here.
It's then I walk down Memory Lane
Reliving things we did
Those many years ago when we
Were just a kid.
The memories of our childhood
Are in my heart to stay.
I keep them bright and shining
So they'll never fade away.
And though I miss you most of all
On Veterans' Day each year,
I'm thankful for the things we shared
Those days when you were here!
Your loving brother,
Donald
Taken from the
full memorial to Harold Dean Housker
The point-of-contact for this memorial is
a friend through all 12 years of school,
Bruce Blagsvedt
brublag@earthlink.net
1 Apr 2004
---
With all respect
Jim Schueckler, former CW2, US Army
Ken Davis, Commander, United States Navy (Ret)
Last updated 11/23/2004