James Donnie Howe
Lance Corporal
I CO, 3RD BN, 7TH MARINES, 1ST MARDIV
United States Marine Corps
17 December 1948 - 06 May 1970
Liberty, SC
Panel 11W Line 113
The database page for James Donnie Howe
01 Mar 2002
REMEMBERED ACROSS THE YEARS
with the honor he deserves.
May he rest in peace.
Semper Fi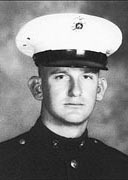 James Donnie Howe
Lance Corporal
United States Marine Corps
Rank and organization:
Lance Corporal, U.S. Marine Corps,
Company I, 3d Battalion, 7th Marines, 1st Marine Division
Place and date:
Republic of Vietnam, 6 May 1970
Citation:
For conspicuous gallantry and intrepidity at the risk of his life above and beyond the call of duty while serving as a rifleman with Company I, during operations against enemy forces. In the early morning hours LCPL Howe and 2 other marines were occupying a defensive position in a sandy beach area fronted by bamboo thickets. Enemy sappers suddenly launched a grenade attack against the position, utilizing the cover of darkness to carry out their assault. Following the initial explosions of the grenades, LCPL Howe and his 2 comrades moved to a more advantageous position in order to return suppressive fire. When an enemy grenade landed in their midst, LCPL Howe immediately shouted a warning and then threw himself upon the deadly missile, thereby protecting the lives of the fellow marines. His heroic and selfless action was in keeping with the finest traditions of the Marine Corps and of the U.S. Naval Service. He valiantly gave his life in the service of his country.
I was India Company's Forward Air Controller then, my call sign was "India 1-4". I was in India Company's Command Post that night when Lance Corporal Howe ("Mouse") jumped on a grenade, saving many lives. I called in the Medevac for him the next morning. Because of Mouse's supreme sacrifice, there seemed to be a stoic fog surrounding me for many years and I stuffed my feelings deep inside for many years. The fog is lifting.
From one who remembers,
Kip Mason
shibori@harborside.com

27 Mar 2004
Courage And Valor
Courage And Valor
Who is there around..
who does not cast a shadow on the ground
Who among them would not lower their head..
for an incoming round
In war.. all of them are the same..
to stay alive is surely the soldier's aim
The difference of any other may be
when it affects the life of a brother
For then we will see courage..
above and beyond the battle's outrage
For then their own bravery..
they should not be surprised to see..
There is.. of valor.. no lack..
when it comes to covering their brothers' back
And to those who fell.. you see..
no one better to honor their memory...
Faye Sizemore
©2004 (All rights reserved)
I am proud to be a resident of this Marine's home town.
No one shall be forgotten....
From
Faye Sizemore
fray68@yahoo.com

---
With all respect
Jim Schueckler, former CW2, US Army
Ken Davis, Commander, United States Navy (Ret)
Channing Prothro, former CAP Marine
Last updated 03/30/2004