06 Jul 2007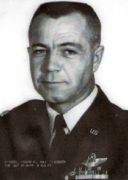 Major Edward M. Hudgens, a Tulsa, Oklahoma native, is remembered by the Permian Basin Vietnam Veterans' Memorial in Midland, Texas and by the Big Spring Vietnam Memorial
in Big Spring, Texas.
Prior to departing for Vietnam, Major Hudgens had lived for six years in Big Spring as an instructor pilot at Webb Air Force Base. He was married, the father of 4 children, and was an 18 year veteran of the Air Force with service in Korea. His children were living and attending schools in Big Spring when Major Hudgens was lost. His aircraft crashed while he was flying air support for elements attempting to rescue two downed F-4D crewmen in Laos.
Major Hudgens's remains were identified in March 1996 and buried at Arlington National Cemetery. His son Jeff has made serveral trips to North Vietnam and has placed a plaque at the location of his father's crash.
The City of Big Spring, Texas has honored Major Hudgens by naming the street that entered the old east gate to Webb as Edward Hudgens Memorial Drive. This street passes the Big Spring Vietnam Memorial on the north side and extends some 10 blocks to 16th Street.
From a PBVVM representative,
Billy M. Brown
4015 Melody Lane, Odessa, Texas 79762
bmbrown@grandecom.net