Edward James Jacobs, Jr
Commander
VAP-62 (TDY TO VAP-61), TF 77, 7TH FLEET
United States Navy
13 July 1928 - 25 August 1967
Mount Vernon, Washington
Panel 25E Line 042
The database page for Edward James Jacobs, Jr
10 Dec 1997

Commander Edward J Jacobs, LTJG James J Zavocky, and ADJ2 Ronald A Bois-Claire were conducting airborne photo reconnaissance off the coast of North Vietnam in an RA-3 aircraft. Radio contact with the aircraft was lost, and SAR efforts failed to uncover any trace of the aircraft or its crew.

All three men were declared "Missing in Action". Eventually that was changed to "Killed In Action/Body Not Recovered". The fact of the matter is that no-one knows what became of these three men.

The sponsor of this memorial wishes to remain anonymous.
E-Mail address not available

11 Jan 2004

I have worn Commander Jacobs' MIA bracelet since 1987 in memory of his service to his country. I am not related and never met him, but want his family and friends to know he will never be forgotten.
30 Jul 2006

I would like to thank you for the making of The Virtual Wall database.

I am the son of Commander Edward Jacobs.
I was only 3 when he left for Vietnam.
He was attached to VAP-61 out of NAS Jacksonville.
It is difficult to get to D.C. to see the actual Wall.
I did manage in 1995.
It is still nice to visit this Wall from time to time and remember Dad.
Thanks Again.

From his son,
Edward J. Jacobs III
edward.j.jacobs@navy.mil

23 Feb 2007

I was only 5 months old when he became MIA but I have always held a place deep down in my heart for my dad. The only thing I have are the photos and stories told which I will always cherish. Almost 40 years have passed but all I wish for is that I knew him ... but he is and always will be my hero ... my dad.

From his daughter,
Jean Allison Jacobs-Cubin
info@aphotomoment.com

A Note from The Virtual Wall
The three men were flying in RA-3B BuNo 144835 assigned to Heavy Photographic Squadron 61 (VAP-61) and probably launched from Danang Air Base in South Vietnam. They were conducting a night photo recon mission with infrared cameras in North Vietnam. The aircraft simply disappeared - no signs of wreckage or the crew were ever found.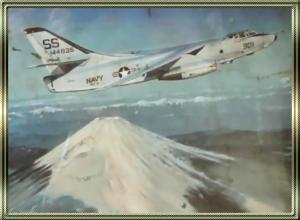 According to the VAP-61/VAP-62 site, this photo is of a silk painting from outside the gate at Naval Air Station Atsugi, Japan, which depicted RA-3B BuNo 144835 in flight near Mount Fuji. It is courtesy of Bruce Haase, AMH3, Plane Captain 144835, VAP-61, 1962-1963.
Heavy Photographic Squadron 62 (VAP-62) was based at Naval Air Station Jacksonville, Florida, as part of the Atlantic Fleet. VAP-62 never deployed as a full squadron to Vietnam during the war but did provide aircraft and aircrew augmentation to the Pacific Fleet's VAP-61.
---
With all respect
Jim Schueckler, former CW2, US Army
Ken Davis, Commander, United States Navy (Ret)
Memorial first published on 05 Jan 2001
Last updated 11/13/2010