30 November 2001

I can't even begin to find the words to describe my brother, Timothy John Jacobsen, also known as "Jake". He was bigger than life. Born to Kermit and Margie Jacobsen, the fifth of eight, the second of two boys, he was "full of it" from the day he was born! He said it was because he had to put up with six sisters.
Tim had a knack for getting into trouble but it was never anything serious and it just made me love him even more. We were raised on ranches ... dairy, then cattle and sheep. He loved being out in the mountains, gathering cattle, ranching, and I think he was most happy when he was on horseback. The girls loved him, he was rather charming, our family loved him more than we can say, his buddies were true blue to him as he was to them.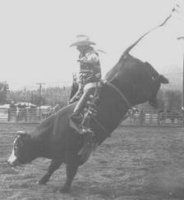 He was quite the rodeo star. Started riding bulls at an early age and by the time he was 18 he was the best in Humboldt County, California. He was known for his wild collection of bullriding shirts, brightly colored satin in turquoise, purple and red ... he said they brought him good luck! He was fearless, I guess that's why he became a door gunner. Family and friends meant everything to Tim. We were all very close, loved him dearly and miss him more than we can say. You could count on him to be there for you in a heartbeat. He had one of the sweetest hearts I've ever known and a smile that could light up any room.

I was only 14 when he was shot down but memories don't fade, they just get stronger.
He was one of the good guys.
He was my hero.
---
If you knew Tim
I would love to hear from you -
Cindy Jacobsen McWhorter
cinderellamc1@aol.com