Scott Winfield Jones
Sergeant
36TH USARV TRNG BN (EX B-36), SPECIAL FORCES
Army of the United States
17 December 1947 - 20 April 1971
Alameda, CA
Panel 04W Line 136
The database page for Scott Winfield Jones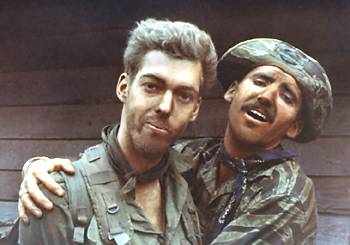 Scott is on the right, wearing the hat.
Scott Jones was everything a "green beret" was supposed to be. He served with distinction at Dak Pek, and left only when the team was yanked out. He wanted badly to get back to his friends among the mountain people, or at least to stay in Viet Nam. Only this last wish was granted. The day he died, America lost a brave soldier. His family and friends lost much more than that.


---
Scott Winfield Jones,
Sergeant, United States Army,
was buried on 30 April 1971 in
Section OS-A 6, Plot 1,
San Francisco National Cemetery,
San Francisco, California,
among other men of courage and integrity.
09 June 2003

I never met my Uncle Scott Jones.
I've always felt I missed out.
Everyone I have talked to about him says he was really great to know.
As I hear more about him, I like that I am able to learn from him by hearing how he helped and inspired others.

From his nephew Mark.
E-mail address is not available.
The point-of-contact for this memorial is
a friend and teammate,
Lawrence Woodlock
lwoodlock@aol.com
24 Dec 2002
---
With all respect
Jim Schueckler, former CW2, US Army
Ken Davis, Commander, United States Navy (Ret)
Channing Prothro, former CAP Marine
Last updated 11/13/2010