Michael Barry Judd was born to Cherry and Jim Judd, both artists. She was born in England, emigrating to Ontario, Canada in the 1930's. There, Cherry attended art school and met her first husband, Jim Judd. They moved to Cleveland, Ohio, after having son, John Christopher (Chris) in Norfolk Virginia and later Michael, who was born in Cleveland.
Michael's mother worked at Higbee Company's Display department where she met her second husband, Joseph Thomas Dottore. They had a daughter, Cathy Dottore. Cherry worked as an executive assistant at St. Luke's Hospital in Cleveland until retiring in 1989.
When Michael was 11 years old, his brother moved to Colorado to live with his father and stepmother Sally. Michael stayed in Cleveland, graduating from John Adams High School in 1964 and entering the service shortly thereafter.
He served at Marine hospital facilities in California and Virginia before leaving for Vietnam in 1966.
He spent nearly a year serving with the Third Marine Division in Vietnam, and was killed less than two months before he was due to return home. His brother Chris was also serving in the Navy and due for duty aboard the Patrick Henry nuclear submarine.
On June 30, 1967, Captain John A House was flying 11 members of a Reconnaissance Patrol into a Landing Zone, and received heavy small arms, automatic weapons, and anti-aircraft fire from ridgelines and treelines near the LZ. The helicopter was hit and burst into flames. He aborted the landing, but with the craft severly damaged.
He was able to fly a short distance with the chopper on fire but was finally forced to make a crash landing in tall jungle canopy on a hillside approximately 1000 meters away. According to Lieutenant Colonel William R. Beeler (U.S. Marine Corps, July 1, 1967 letter to Jack's parents), the co-pilot (Ted Pittman) managed to escape along with the two enlisted crew members and four of an eight man reconnaissance team.
Prior to being rescued, two of the lesser injured reconnaissance team members returned to the scene of the crash and verified the crash scene. Jack's parents were contacted by the co-pilot and he told them that Jack was not injured from fire or the crash, but tree branches stopped his exit from the helicopter and just before he was able to get free, the helicopter exploded.
Five men were not recovered from that downed helicopter. The five missing men were:
One of the survivors, Lance Corporal Dennis Mitchell Perry, A/3 Recon, died on 02 July 1967 of injuries received. One of the other survivors, patrol leader Sergeant Eugene Castaneda, returned to duty and was killed in action on 12 August 1967.
In April 2017, the Department of Defense announced that House, Runnells, and Killen were accounted for. Two additional service members were previously identified from this crash in 2012, Marine Lance Cpl. Merlin R. Allen and Navy Hospital Corpsman 3rd Class Michael B. Judd. Their remains were returned to their families in February 2013 for burial with full military honors.
The seven Marines who survived the horrific crash and all testified in their debriefing that if it weren't for the calmness, skill, and training of their pilot and brother Jack House, they wouldn't have made it out alive. Based on their reports, Captain House was posthumously awarded the Distinguished Flying Cross.
---
Michael Barry Judd was survived by his mother Cherry Keogh (Smith) Judd Dottore (1918-2015), father James Weston Judd, stepfather Joseph Thomas Dattore, brother Lt. J. C. (Chris) Judd (1941-2015), U.S. Navy, and sister Cathy Dattore.
Burial in Arlington was July 15, 2013. The complete story and photos can be viewed here. Both his mother and brother passed away in 2015 and are buried on a family property in Frederick, Maryland.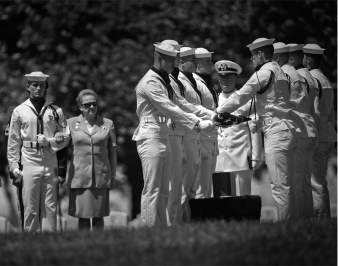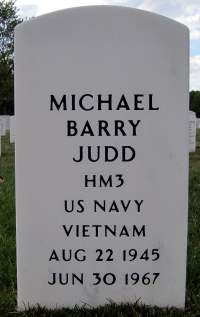 'In Memory Of' marker can be found at Highland Park Cemetery, Highland Hills, Cuyahoga County, Ohio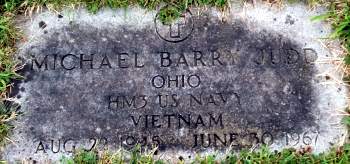 ---
Additional information is available on the Pop-A-Smoke site

---
- - - The Virtual Wall, September 21, 2017