POTOMAC - In 1967, 19-year-old David L. Judy dropped out of Danville Junior College, said goodbye to his fiancee and family and enlisted in the U.S. Marines.
"He just had to go to Vietnam," his mother, Marjorie, recalled 35 years later. "He had to serve his country."
Lance Cpl. Judy never came back to finish school or marry his high school sweetheart. The following year, he died on a battlefield halfway across the world.
. . .
Marjorie Judy and her husband David, a veteran from World War II, lighted candles in remembrance.
After the ceremony, the couple sat on one of the granite benches and talked about their son and the pain of losing him.
"You never get over it," David Judy said quietly, tears filling his eyes. "But it's great to have something like this. People will never forget."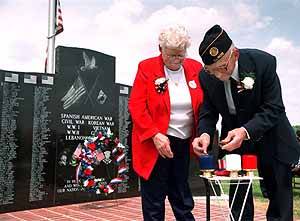 N-G photo by Holly Hart

David and Marjorie Judy light candles in honor of fallen soldiers on Monday during the dedication ceremony for the new memorial at Potomac Cemetery. Their son, David L. Judy, was killed in action during the Vietnam War.

From "Four-year dream comes true"
By Noelle McGee
© 2002 THE NEWS-GAZETTE (Champaign, Illinois)
Published Online May 28, 2002
Used with their kind permission.