Howard Walker Kaiser
First Lieutenant
19TH TASS, 505TH TCG, 7TH AF
United States Air Force
25 March 1941 - 13 September 1966
Chesterfield, New Hampshire
Panel 10E Line 091
The database page for Howard Walker Kaiser
1 Jul 2001

Walker, Viper-9, you are still missed, some 35 years later.

A great pilot and fellow Forward Air Controller.

Most of all a courageous warrior and great American.

Charlie Pocock, Viper-7


---


Visit the
505TH TACTICAL CONTROL GROUP
13 Aug 2002

This one is for a personal friend and team mate. I left Song Be on 12 Sep 66 and Walker was killed in action on 13 Sep 66. He must have had a premonition as he had asked me to extend my tour so we could go home together - otherwise he didn't think he was going to make it. I thought he was just kidding around. We flew many missions with me in his backseat as spotter and got to know one another much better than most officers and enlisted men ever would.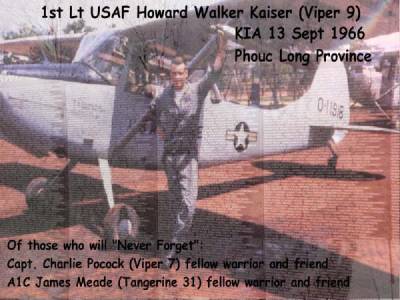 Jim Meade
rfcom@optushome.com.au

3 Apr 2005

Walker Kaiser was a classmate of mine in college. We played football together our freshman and sophomore years. He was an end, I was a quarterback so we worked together quite a bit. He was a great guy. We both graduated from UNH in 1963 - he was Air Force ROTC and I went to Air Force OTS. I never saw him again after college but heard that he had been killed in action. Finding this wall has brought back a lot of memories for me. I was flying C-130's out of CCKAB, Taiwan during the time Walker was a FAC. In fact I had heard Walker was flying F-100's when he was shot down so I was surprised to see him standing next to his 0-1 "Birddog". My tour of duty was from June 66 to Jul 67 flying throughout SEA. This Virtual Wall is a wonderful tribute and memorial to some great Americans.

From a college friend,
Jim Twombly
papanav@metrocast.net

A Note from The Virtual Wall
By report, 1stLt Kaiser departed Bien Hoa Air Base in O-1G tail number 55-11918 on a search mission looking for a downed Army helicopter near Katum. When Kaiser failed to return he became the subject of a search, but it was some time before the wreckage of 55-11918 was found near the Cambodian border.
The point-of-contact for this memorial is
a friend and fellow FAC,
Charles L. Pocock
E-Mail may be forwarded via the
Webmaster@VirtualWall.org
1 Jul 2001
---
With all respect
Jim Schueckler, former CW2, US Army
Ken Davis, Commander, United States Navy (Ret)
Last updated 04/03/2005