Francis Xavier Kane
Private First Class
M CO, 1ST BN, 1ST MARINES (9TH MAB), 1ST MARDIV
United States Marine Corps
18 September 1949 - 21 April 1968
Philadelphia, PA
Panel 51E Line 022
The database page for Francis Xavier Kane
13 Jan 2003

We will love you eternally!

Brothers
Kevin, Terry and Tom
and
sisters Kathy, Bonnie, and Peggy
05 June 2003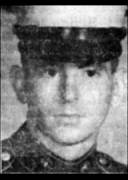 The photo and following article is taken from The Philadelphia Daily News, special supplement entitled 'SIX HUNDRED AND THIRTY,' October 26, 1987. The special supplement was issued in conjunction with the dedication of the Philadelphia Viet Nam Memorial.
"Franny had a short life. It was a full and happy life, spent with loving family and sacrificed for the country he loved," Kane's mother recalled. He and his brothers and sisters spent many hours at the Torresdale Swim Club and the Torresdale Boys Club. Kane had a single goal - to become a Marine - which he did in 1967 after graduating from Father Judge High School. The private first class, a rifleman, was sent to Viet Nam, where he was assigned to Company M of the Battalion Landing Team 3, 1st Marines, 9th Marine Amphibious Brigade. Kane died on a search-and-destroy mission west of Ca Lu, Quang Tri Province, on April 21, 1968. He was 18 years old. In high school, Kane had been good friends with William J. Schussler , another Philadelphia Veteran who died in Viet Nam. Kane was survived by his parents and seven brothers and sisters. The Torresdale Boys Club presents the Francis X. Kane Award each year in his memory.
SEMPER FIDELIS, MARINE!
From a native Philadelphian and Marine,
Jim McIlhenney
christianamacks@comcast.net
The point-of-contact for this memorial is
his brother,
Tom Kane
msktpk@aol.com
13 Jan 2003
---
With all respect
Jim Schueckler, former CW2, US Army
Ken Davis, Commander, United States Navy (Ret)
Channing Prothro, former CAP Marine
Last updated 06/05/2003