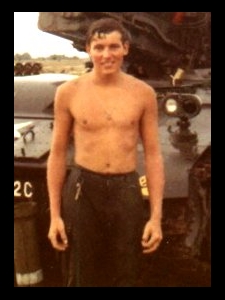 Stephen Joseph Keesler was one of the finest young men I have ever known. He entered the Army at Fort Dix, NJ, on September 3rd, 1969, at 19 years old. He was scared to death but felt "there wasn't anything to do about it, but do your job". I was a senior in High School and we were getting married when he came home from Vietnam. Little did I know that day would never come.
He was the oldest brother of 5 children. He was a hunter and an expert shot, having been raised in the Allegheny National Forest in northwest Pennsylvania, and had hunted with his father all his life. Steve worked in a factory after he graduated from High School in 1968, until he got his "greetings". It never occurred to him not to go, and we both knew where he was probably headed. We were right. After AIT at Fort Lewis, Washington Steve was sent to Vietnam where he was assigned to C Co, 1/5 Mech, 25th Infantry Division.
Steve's company was in the Fishook area of Vietnam for all of the 3 months that he was there. They were in the Hobo Woods, and the Iron Triangle and were choppered (Eagle Flight style) to the Black Virgin Mountains. Finally the order came in May of 1970 to go into Cambodia where Steve would last just 12 days, as Track Commander behind the 50 caliber machine gun. Steve was friends with John Vincent, Ted Tilly, John Roth, Bill VanHosen and Joe Waggerty. Their track had a picture of a playboy bunny on the side but I don't remember him mentioning any name.
It has been 28 years and as I sit here writing this at almost 46, I am 17 again. I am looking at that picture you sent me, Steve, of you riding TC on the 50 caliber just days before you died. I wonder if you thought of me that early morning when you would leave me and your family? I wonder were you scared? I know you never hesitated to do your job, of that I am sure. Your friends all signed a personal letter to your Mom and Dad, and told of how you always helped everyone else finish their work when you were through with yours. That doesn't surprise me - for I knew you when you routinely rocked your baby sister to sleep after the 2nd shift at the factory, so she wouldn't wake your Mom and Dad.
You lived such a short time, 20 and 1/2 years, and were loved by many people, but I feel honored to have been loved by you.
Rest in peace Steve,
I'll never forget you.

Debbie Henderson Dawidowicz
Phylona@aol.com
If you knew Steve, please contact Debbie
Remembered by his comrades -
The BOBCATS of the
5TH INFANTRY REGIMENT (MECH)