A Note from The Virtual Wall
The 2nd Bn, 5th Marines' After-Action Report for Operation UNION II contains the following entry addressing a bitter fight at Vinh Huy, about 8 kilometers east-southeast of Que Son, on the afternoon of 02 June 1967: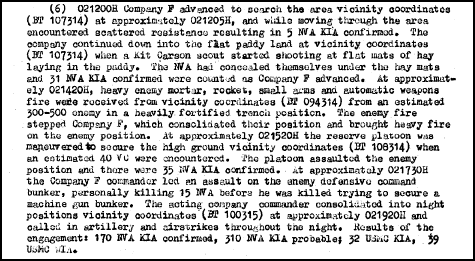 The 32 men from 2/5 who died in this fight were
E Co, 2nd Bn, 5th Marines, 1st Mardiv, 3rd MAF

Pfc Gerald L. Foell, Plymouth, IA



F Co, 2nd Bn, 5th Marines

Capt James A. Graham, Frostburg, MD (Medal of Honor)
2ndLt Straughan D. Kelsey, Indialantic, FL
Sgt Gerald L. Ackley, Dunnigan, CA
LCpl Richard L. Blasen, Wheaton, IL
LCpl Arthur M. Byrd, Houston, TX
LCpl William S. Daugherty, Evansville, IN
Cpl Victor M. Driscoll, Bellaire, TX
LCpl Gary W. Kline, Lincoln Park, MI
LCpl John R. Painter, Palmdale, CA
LCpl Jereld E. Westphal, Bethel, KS
Pfc Larry N. Boatman, Caddo, OK
Pfc Jimmy R. Crook, Austell, GA
Pfc Lawson D. Gerard, Santa Monica, CA
Pfc Michael D. McCandless, Columbus, OH
Pfc Dennis E. Monfils, Riverside, CA
Pfc Keith M. Moser, Lowell, MI (Silver Star)
Pfc Robert Richardson, Augusta, GA
Pfc Clifford Shepherd, Dayton, OH



H&S Co, 2nd Bn, 5th Marines

2ndLt Charles J. Schultz, Metuchen, NJ
Cpl Marion L. Dirickson, Tonkawa, OK
HM3 Thomas S. Donovan, Natick, MA (Silver Star)
Cpl John P. Francis, Reese, MI
Cpl Gary M. O'Brien, Orlando, FL
Cpl Karl B. Rische, Milwaukee, WI
LCpl Stephen A. Balters, San Jose, CA
HN Billy R. Boyd, San Bernardino, CA
LCpl James J. Deasel, Baltimore, MD
LCpl Robert R. Hernandez, San Antonio, TX
LCpl Benjamin F. Pelzer, Columbia, SC
Pfc Steven E. Scharlach, New York, NY
Pfc James A. Weed, Tacoma, WA
By late evening on 02 June the North Vietnamese had been flanked from their positions in Vinh Huy and withdrew in haste to the northwest, west, and southwest.

At daybreak on 03 June the Marines entered the village without opposition and began to gather up the dead. In one of the ironies of war, a Marine company commander reported that NVA working parties were policing the battlefield for their dead and wounded and asked if he should open fire on them. Colonel Hilgartner, the on-scene Marine commander, ordered his Marines not to start hostilities but rather to concentrate on finding the dead and wounded. For the remainder of 03 June both Marine and NVA working parties ignored each other while they went about gathering their casualties.

Seventy-four Marines and sailors died in the fighting, while 476 NVA bodies were gathered on the battlefield.

Perhaps because so many of the US dead were not recovered until 03 June, 41 of the 74 US dead are incorrectly carried as having been killed on 03 June - but as noted above, an informal truce was declared on 03 June.