Charles F Kennedy
Sergeant
D CO, 4TH BN, 503RD INFANTRY, 173 ABN BDE
Army of the United States
18 May 1934 - 07 March 1967
Blytheville, Arkansas
Panel 16E Line 035
The database page for Charles F Kennedy
05 Apr 2008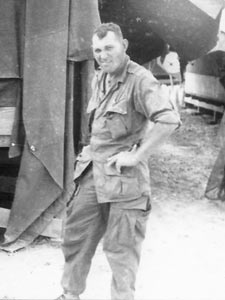 Sergeant Kennedy was in the Recon Platoon 1/501 Inf. 101 AB, When we went to Viet Nam we became the 4/503 Inf 173rd AB. and the Recon Platoon became Dog Co, 4/503 Inf.
Sergeant Kennedy was a good soldier and a good friend. He was a professional who trained his men well.
God bless him and we miss him.
From a friend,
Robert S. Carpenter
robert.carpenter@yahoo.com

A Note from The Virtual Wall
On 07 Mar 1967 D Company, 4/503rd Infantry, lost two men in a patrol engagement in Tay Ninh Province:
SGT Bennie L. Cross, Cairo, IL, and
SGT Charles F. Kennedy, Blytheville, AR.
---
With all respect
Jim Schueckler, former CW2, US Army
Ken Davis, Commander, United States Navy (Ret)
Memorial first published on 05 Apr 2008
Last updated 04/16/2008