Michael William Kenter son of Mrs and Mr William G Kenter, was born June 14, 1947. He attended the local schools and graduated from St. Anthony High School in Effingham, Illinois.
After high school, he entered the Army and by the age of 20 he had risen to the rank of Sergeant.
His tour of duty in Vietnam started on January 5, 1967. On 2 October 1967, SGT Kenter was awarded a Bronze Star for Valor as evidenced by the description of events on his orders below.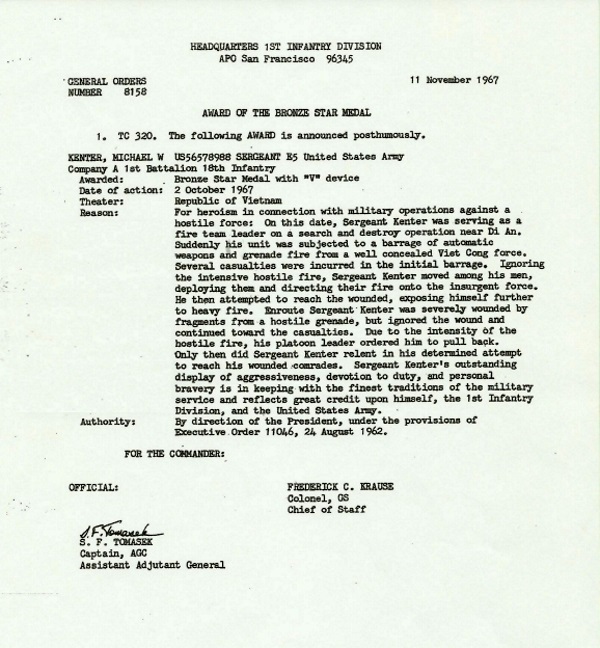 Twenty Eight days later, on October 30, 1967 while in Binh Long Province in South Vietnam, SGT Kenter again exhibited bravery against the enemy, but this time he was killed during a firefight with a hostile force.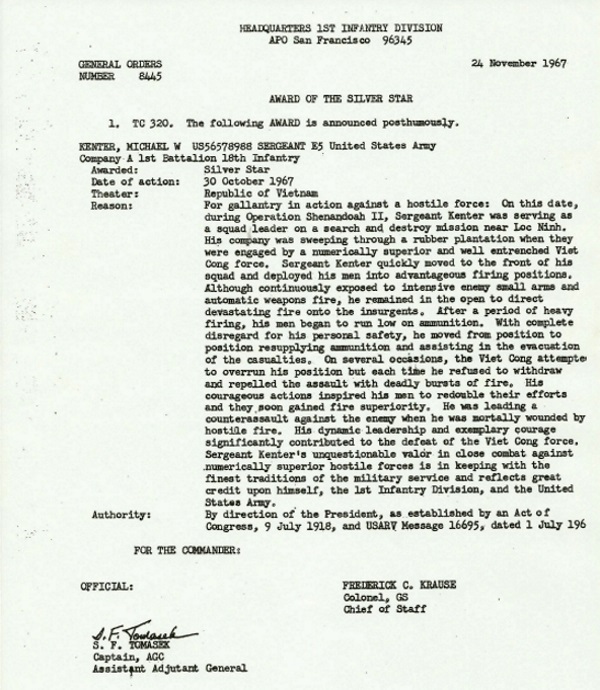 ---
Area papers posted the similar notices on Thursday, November 2, 1967:
Three Illinois War Deaths
WASHINGTON (AP) - Three Illinois servicemen were among 31 men killed in action in Vietnam, the Department of Defense announced Wednesday. They were: Army Sgt. Michael W. Kenter, son of Mr. and Mrs. Willam G, Kenter, of 707 Ealy St., Effingham; Army Pfc. Michael Peters son of Mrs. Elma J. Peters, 3701 Forrest St., Brookfield; and Marine Lance Cpl. William R. Hackett Jr., son of Mrs. Julie Bransford, 4326 North Kedvale, Chicago.
The headlines of the papers that day were also covering a story of where Viet Cong troops tried and failed again in a massive attack to capture Loc Ninh, a district headquarters town they first struck a week earlier. U.S. and South Vietnamese soldiers, artillery and planes hurled them back. Field dispatches said 463 Communists were killed in a fourth drive of the week on Loc Ninh, near the Cambodian frontier 72 miles north of Saigon. The new casualty figure would push the total enemy dead through the running battle in that sector to 832. Spokesmen reported the allied losses through the week totaled 35 dead and 106 wounded.
There were 4 men from Company A killed in action that day - they were:
SGT Michael William Kenter was survived by his parents and several brothers and sisters. He is buried at St. Anthony Cemetery, Effingham, Illinois.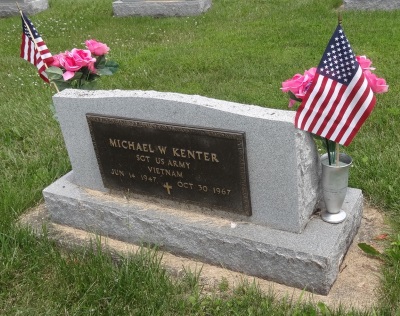 ---
- - - The Virtual Wall, June 28, 2016