In addition to the medals above, Bill Kern would have been able to wear the Meritorious Unit Award Ribbon and Valorous Unit Award Ribbon as being present with the 27th Infantry "Wolfhounds" of the 25th Infantry Division when those awards were granted. They would be worn above the right breast pocket of the dress green uniform.
---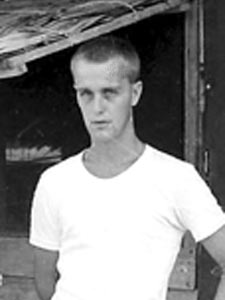 William was my uncle. I have attached copies of the paperwork received from the National personnel records center when I inquired about his medals. We would like to have the Bronze Star added to his page on The Virtual Wall.
He served in Vietnam from February 15, 1966, and died on October 8, 1966. He was shot once and returned to duty after hospitalization. We do know that his unit was ambushed and he was executed. A surviving member of his unit visited my grandparents and told them the entire story. Unfortunately, it was not recorded and I have lost the name of the surviving man. I believe he was the radio man or was possibly under the radio man.
It would mean a great deal to my father, William's brother, to have the Bronze Star added to William's memorial page. I would be happy to answer any other questions you may have. Just let me know.
William Frances Kern, son of Nellie Rebecca (Lowman) Kern and Melvin Jacob Kern, was born on Thurday, April 26, 1945 in Algona, Iowa. Bill graduated from the Algona High School in 1964. He entered military service on September 15, 1965 and began his 13 month tour in Vietnam on February 15, 1966. Bill was injured by a sniper in April and after recovering from his injuries had returned to active duty the latter part of August. He was killed in action from 'wounds to the head and right arm' according to Army records.
- -Kathleen Dianne Kern Guyer, September 22, 2014
---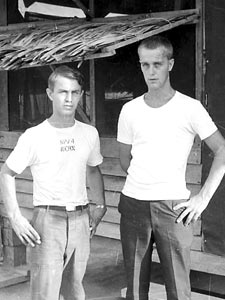 On 7 October 1966, a patrol from Charlie Company was ambushed and decimated in a firefight with Viet Cong (VC) forces as they moved through a flat, grassy, populated area with major rice fields to the east, west and south of the Song Van Co Dong River. The ambush site was located approximately 1 mile east of Khiem Cuong, 6 miles northeast of the Song Van Co Dong River, 17 miles west-northwest of Tan Son Nhut Airfield that was on the northeast edge of Saigon and 17 miles due east of the South Vietnamese/Cambodian border, Dinh Tuong Province, South Vietnam.
One man, after capture, SGT Sammie Norman Womack, was marched north to the VC prison camp in Tay Ninh Province as were other Americans captured before him. He was released on February 7, 1967. Read the full story of his capture and release here. Sammie N. Womack, 69, of Radcliff, Kentucky, passed away Tuesday, May 13, 2014 at Hardin Memorial Hospital, Elizabethtown, Kentucky.
The 10 other men who perished in this assault that wiped out their patrol were:
SP4 Kern was survived by his parents, Nellie Rebecca Lowman Kern (1908-2004) and Melvin Jacob Kern (1910-1978), and the following 13 brothers and sisters, in order of birth: Delmar Donald (1929- ), Dale Duane (1930- ), Opal Mae Kern Bloom (1932-1991), Richard Lee (1933-1937), Martin James(1935-1990), Franklin Dee (1937- ), Kay LuAnn Kern Groesbeck (1938- ), Robert Dean (1941- ), Gary Eugene (1942-196), Kenneth Leroy (1943-1972), William Francis (1945-1966), Karen Kay Kern Hardgrove (1946- ), Linda Dianne Kern Grems (1949- &nbsp ), Steve Alan (1952- ) p>
He is buried with his family at East Lawn Cemetery, Algona, Kossuth County, Iowa. He was the first Kossouth County Vietnam casualty.