Herbert Arthur Kirk
Staff Sergeant
LIMA 85 (1043RD RES), 7TH AF
United States Air Force
21 February 1929 - 11 March 1968
Philadelphia, PA
Panel 44E Line 018


The database page for Herbert Arthur Kirk

14 Nov 2002
REMEMBERED
Herbert Kirk volunteered for a sensitive assignment called Project Heavy Green which involved a temporary relief from active duty in order to take a civilian job with Lockheed Aircraft. He would be running LIMA 85, a radar base in Laos, whose neutrality prohibited U.S. military presence.
LIMA 85 was a highly classified TSQ-81/TACAN site on a Laotian mountaintop near the North Vietnamese border. On 11 March 1968, eleven US Air Force men were lost when the site was overrun by the North Vietnamese - and a twelth was lost when his A-1E was shot down during rescue operations.
Additional information is available on The Virtual Wall's
LIMA 85 MEMORIAL
The point-of-contact for this memorial is
one who wore his MIA bracelet.
ladecker@twcny.rr.com
05 June 2003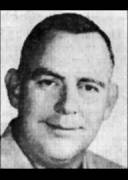 The photo and following article is taken from The Philadelphia Daily News, special supplement entitled 'SIX HUNDRED AND THIRTY,' October 26, 1987. The special supplement was issued in conjunction with the dedication of the Philadelphia Viet Nam Memorial.
The career Air Force non-commissioned officer is one of nine MIAs from Philadelphia. He was part of a Central Intelligence Agency-backed covert Air Force mission called Project Heavy Green. Personnel assigned to the super-secret mission operated radar from clandestine sites in Laos and directed U.S. bombers to targets in North Viet Nam. Kirk, a radio technician and repairman, and 11 other men were believed killed in an enemy raid on one of the radar sites on March 11, 1968. Even if Kirk had survived the attack, he probably would not have survived the intensive bombing three days later by American B-52 bombers sent to destroy evidence of the covert mission, according to classified documents released years later in connection with lawsuits against the Air Force by his son, Rudy, and the next of kin of some of the other men. "He said he might not return," recalled Rudy Kirk, who last saw his father boarding a bus in Bellingham, WA, in the fall of 1967. Kirk told his wife and two sons that he and about 60 other men chosen for the mission would be posing as civilians working for the Lockheed Aircraft Corporation for security reasons. The 39-year-old sergeant entered the Air Force in 1951 after attending Northeast High School. It wasn't until 1982 that Project Heavy Green was declassified and Kirk was posthumously reinstated in the military.
From a native Philadelphian and Marine,
Jim McIlhenney
christianamacks@comcast.net
---
With all respect
Jim Schueckler, former CW2, US Army
Ken Davis, Commander, United States Navy (Ret)
Channing Prothro, former CAP Marine
Last updated 06/05/2003