John Francis Kitson
Private First Class
C CO, 1ST BN, 1ST MARINES, 1ST MARDIV
United States Marine Corps
18 July 1950 - 23 July 1969
Levittown, New York
Panel 20W Line 036
The database page for John Francis Kitson
26 Feb 2003

John Kitson and I survived boot camp and advanced infantry training together. He had a tough spirit and a kind heart. We shipped out to Vietnam together but pulled different assignments. I wrote about him in my book, "Fire in the Hole: A Mortarman in Vietnam" (USBN: 0-595-16003-4). He was my friend. I will always remember him.

Michael Orange
orange_orange@msn.com

A Note from The Virtual Wall
The 1/1 Marines' Command Chronology for July 1969 says that Charlie Company Marines detonated two booby traps shortly before noon on 23 July, one at 11:40 and one at 11:50. The two devices wounded a total of seven Marines - and two of them died from their injuries. The two men were Pfc Philip Hammons of Covington, Kentucky, and Pfc John F. Kitson, Levittown, New York.
---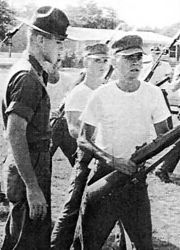 Pfc John Francis Kitson,
United States Marine Corps,
is buried in Grave 2986, Section F,
Long Island National Cemetery,
Farmingdale, New York.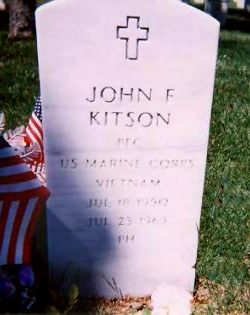 Photos are from the
Charlie Co, 1/1 website

---
With all respect
Jim Schueckler, former CW2, US Army
Ken Davis, Commander, United States Navy (Ret)
Memorial first published on 26 Feb 2003
Last updated 11/03/2006