Dedication of memorial for Two Fallen sons
In an article published by Gloucester Times on May 29, 2007 (Read Full Story Here),

ESSEX - Four decades after they made the ultimate sacrifice in the service of their country, Army Spc. Paul D. Knowlton and Marine Corps Pfc. Robert E. Moore were honored with a memorial service yesterday and a playground named in their memory.

It was a very emotional day for the families of the two men who died in the Vietnam War but they were pleased with the granite memorial dedicated in honor of the young warriors.

"They did a great job," said Tim Knowlton, "I can't thank them enough."

The playground at Shepard Memorial Park behind the Martin Street fire station was dedicated May 28, 2007 as the "Knowlton Moore Memorial Playground".

Traditionally, the mothers of the two fallen men, Mabel Knowlton and Barbara Moore, sit next to each other during Memorial Day ceremonies each year (Mabel was ill this year and represented by Son/Brother Tim).

Earlier this year, in another interview (See Below) Moore said she has only missed one Memorial Day ceremony since her son died almost 40 years ago. She was usually joined by Paul Knowlton's mother, Mabel.

"We sat side by side. We shared something that only someone who's lost a child can know," Moore said. "And when they unveil the memorial, Paul and Bobby will be side by side, just like at the cemetery."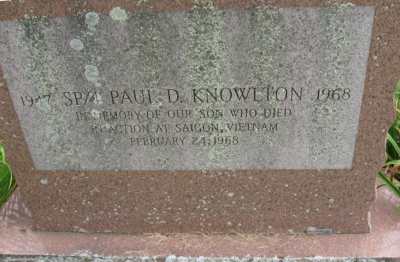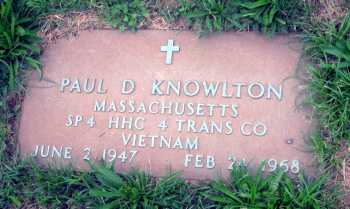 Retired Marine Corps Gunnery Sgt. Raymond G. Greene was the master of ceremonies and spoke of how men and women of every generation have "answered the call" of duty.
Paul Doucette, an Army veteran of the Vietnam War and a Bronze Star recipient, served as a member of the honor guard and gave a speech about the lives of Knowlton and Moore.
The plaque reads: "The Knowlton Moore Memorial Playground." It also has the names, ranks and birthdays of Knowlton and Moore, and says: "To all who come to use these grounds: Take a moment and remember two young boys that played on these very fields. When their country called, overnight they became men and lost their lives defending freedom in the Vietnam War."
After the walk to Springfield Cemetery and the Old Graveyard, the group returned to the park to conclude the day's ceremony, where Doucette said "It was great. It's long overdue"