James Lee Krisell
Lance Corporal
H CO, 2ND BN, 3RD MARINES, 3RD MARDIV
United States Marine Corps
22 February 1949 - 19 May 1968
Glendale, Arizona
Panel 63E Line 013
The database page for James Lee Krisell
28 Jan 2008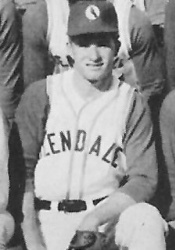 James L. Krisell graduated from Glendale (Arizona) High School in 1967. A year ahead of me in grade, my one encounter with Jim came during spring practice for varsity baseball at GHS in 1967. While taking my turn at our batting machine I ripped a hard line shot that might have dropped behind shortstop for a clean single had James not somehow moved the 18-20 feet to his left and made a great reaching catch. As it turned out this was only normal for Jim who had a passion for baseball. His graduation ambition records a desire to either play pro baseball or become a US Marine. Fulfilling a portion of his dreams, James joined the Marine Corps and reported to Vietnam on Dec 11, 1967. On May 19, 1968 in Quang Tri Province LCPL James Lee Krisell was killed in action by hostile small arms fire, reportedly from a VC/NVA sniper.
Rest in Peace, Marine,
from a schoolmate and fellow vet,
Frank C. Paden
frankpaden@comcast.net

A Note from The Virtual Wall
On 19 May 1968 Hotel Company, 2/3 Marines lost three men killed in an attack on their night position 5 kilometers southeast of the Khe Sanh combat base:
LCpl James L. Krisell, Glendale, AZ;
LCpl William G. Sachen, Detroit, MI; and
LCpl Gary L. Wilkins, Longview, WA.
---
With all respect
Jim Schueckler, former CW2, US Army
Ken Davis, Commander, United States Navy (Ret)
Memorial first published on 28 Jan 2008
Last updated 03/20/2008