Posted on Midweek.com, May 2, 2012 by Susan Kang Sunderland, independant journalist.
Thanks to relentless work by friend Benjamin Ishida, Airman Albert Kalahana Kuewa's name is finally inscribed on the Vietnam Veterans Memorial Wall in Washington, D.C.
So, as you stand there weeping with your fingers on my name
Share with those cute grandkids the reason for this place
To restore some stolen gratitude and dignity
This granite wall of honor that holds my memory. -Lyrics from The Wall Song
Wahiawa resident Benjamin Ishida is traveling nearly 5,000 miles on Memorial Day to face a wall. No, this isn't some sort of punishment. It's a moment of truth for a Vietnam veteran who fought a personal battle for 46 years on behalf of a buddy.
Ishida, 68, is making a pilgrimage to see the name of his Waialua High School classmate and Navy buddy, Airman Albert Kalahana Kuewa, finally inscribed on the Vietnam Veterans Memorial Wall in Washington, D.C. He will see it newly imprinted on the black granite wall at Panel O1E, Line 063, one of 58,000 names of fallen heroes.
A day before the ceremony in the nation's Capitol, Ishida will witness Kuewa being honored at the Waialua Lions Club 65th Memorial Day program at Haleiwa Beach Park. The program will feature a special and belated recognition of Airman Kuewa as his name is unveiled on the Lions' Vietnam heroes plaque.
Both occasions will undoubtedly be emotional moments for Ishida.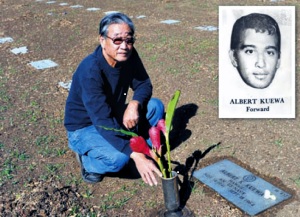 Ben Ishida at his friend Albert Kuewa's grave at National Memorial Cemetery of the Pacific at Punchbowl. The inset photo is of Kuewa from his high school yearbook
Why did it take so long for Kuewa's name to appear on the national and local monuments? Was there a miscarriage of military process, botched bureaucracy, or sheer neglect that caused this oversight?
More importantly, what in the human spirit causes a man like Ishida to pursue a mission so relentlessly for nearly five decades?
"I promised my friend before I die, I going figure this thing out," Ishida says as he recalls a pledge to get Kuewa recognized for his sacrifice in the line of duty.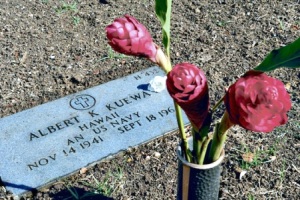 Albert Kuewa's memorial at National Memorial Cemetery of the Pacific at Punchbowl.
Nathalie Walker photo nwalker@midweek.com
Ishida was on crash crew duty the fateful night of Sept. 18, 1964, when Kuewa died on board the USS Ranger in the Gulf of Tonkin off the coast of Vietnam. The carrier was conducting air reconnaissance missions over Laos, sustained for 12 hours daily, from noon to midnight.
"Kuewa worked on the flight deck," Ishida recalls, "the worst job."
It was an open arena to danger and combat fire, he explains. Kuewa was hit by a moving plane while in support of a mission in North Vietnam.
But the carrier log stated otherwise. Kuewa, it recorded, died after walking into a plane's propeller while the carrier was idle.
"What a lie," Ishida says.
As reported by KHONTV News, it turns out there were two logs and their mission was classified.
After bringing Kuewa's body home and learning of the conflicting reports in the military records, Ishida set out on a personal mission to get the U.S. Department of Defense to recognize Kuewa as a casualty of war.
That took many years of research, persistent communications with military and government officials, and valuable support from the office of U.S. Sen. Daniel Akaka.
The result is that, after 46 years, the Department of Defense has evaluated the circumstances of Kuewa's death and approved having his name added to the Vietnam Veterans Memorial Wall for ceremonies on Memorial Day.
"I told Albert that I have to see you on the monument," says Ishida, a construction company owner and retired City firefighter. "I checked all the monuments (including the Korean-Vietnam War Memorial at the Hawaii State Capitol). Never had his name. That's when I went to Akaka's office.
"The thing I feel so bad about is that two days before (Kuewa died), I saw him by the crash locker. He told me he was tired, because he's so big (6-foot-5, 270 pounds). I talked to the flight deck chief to move Albert from flight deck to crash crew. And then this thing wen happen," he says remorsefully.
"I don't want you to make me look like a hero," Ishida tells this reporter. "That's just the way I am. Nobody knew what I was doing all this time."
Kuewa's sister Grace confirms that.
"He carried the burden," she says, "We are amazed that he did so much and can't thank him enough."
For others in the same situation, she implores, "Don't give up." What Ishida did for her brother - one of eight children and the youngest of four boys - is miraculous yet just.
It's all the more noteworthy when one considers the still hotly debated public opinion about the U.S. involvement in Vietnam. While Ishida's agenda is not political by any means, it is one story among many of the Vietnam conflict, which history records as the largest American war with conscription (mandatory enlistment).
"We went into this thing with honor," Ishida says.
Yet America's failed intervention in Vietnam has left many emotional scars. For families like the Kuewas of Waialua, there are haunting memories of their brave son with no true closure.
Thanks to a devoted friend like Ishida, there are small triumphs along the way, like the long-overdue recognition of Albert Kuewa for his ultimate sacrifice in the line of public service.
Ishida expresses this plight with candor on a bronze holder encircling the floral vase at Kuewa's Punchbowl gravesite. It states, "It Took 46 Years Too Long. Brother-Ben."

The urn at Punchbowl: It took 46 years 'too long'.
Nathalie Walker photos nwalker@midweek.com
Donations to offset travel expenses for Benjamin Ishida to Washington, D.C., were sent to Billie Gabriel, Honolulu Hawaii.
---
Permission to The Virtual Wall for article reprint granted by MidWeek Honolulu Star-Advertiser Senior VP Ron Nagasawa on July 17, 2012 who stated "MidWeek would be honored to have the story and photos go on their site."
The sister of another Vietnam War who was killed in combat, Billie Gabriel, continues to search for 180 more photos of island sons and heroes that were killed in action in the Vietnam War, when asked if it would be ok to post this story, stated "This would be a fitting honor to Albert and his dear friend, Ben Ishida. Thank you again, Susan, for your compassion in telling their story."
- The Virtual Wall
---
Vietnam War veteran finally recognized as a hero after 46 years
Video and full story at KHON2 Television, Honolulu, Hawaii
The story begins with "The wait is over for a Waialua family who lost an island son in the Vietnam War. After 46 years, Airman Albert Kalahana Kuewa will receive the recognition he earned thanks to a friend who was there when he died. Benjamin Ishida fought in two wars in his lifetime. The first was in 1964 in Vietnam. The second lasted much longer: 46 years."
"I'd go down there to Punchbowl and tell my friend I say, eh you know before I die, I going figure this thing out," said Ishida.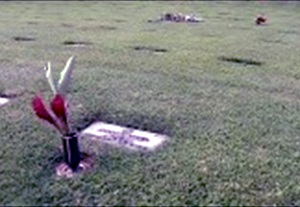 Floral vase at Kuewa's Punchbowl gravesite.
For nearly five decades Ishida fought for his shipmate and friend Airman Albert Kuewa.
Details in the rest of the KHON2 story parallel the story at Midweek.com, except for the discussion about the ship's two diffent duty logs.
The carrier's 'public' log stated Kuewa died after walking into a plane's propeller while the carrier was idle.
The second log was classified. Nobody knew what they were doing.
Ishida knew his friend was struck while in support of combat missions in North Vietnam waters. The Navy said otherwise.
Finally, they got a copy of the 2nd (now declassified) log that stated the USS Ranger was on a DESOTO patrol.
It was part of the proof Ishida needed to show his friend was killed in a combat zone.
Surface ship DESOTO patrols were routine and generally unremarkable in the early Vietnam era, when their activities broke into the headlines in August 1964 with the Tonkin Gulf incidents and the Congressional "Tonkin Gulf Resolution". Unknown at the time, the genesis of the name lay in a single destroyer independent operation in the spring of 1962. The special operation was a then highly-classified intelligence gathering and probing excursion by the USS DeHAVEN into waters that had not been visited by the Pacific Fleet since the late 1940s.
This was a time of considerable unease and frequent turmoil in the Asian-Pacific area. The Taiwan-Mainland China standoff was a 'tinderbox'. During the DeHaven patrol, there was almost an international incident involving the North Vietnamese, Chinese, and USS DeHAVEN.
The name DESOTO patrol was created when the need for an operational code name for the 1962 USS DeHAVEN mission was solved by adoption of the acronym DESOTO --- DEHAVEN Special Operations off TsingtaO.
Complete details of the then TOP SECRET missions can be found at
USS DeHaven Sailors Association
Grace Kuewa, the sister of Albert Kuewa, said of Ben Ishida "I guess the right word for him is relentless - he kept going. He did it and we're grateful to him."
The U.S. Navy recommended to DoD that Kuewa's name be added to the Vietnam Veterans' Memorial Wall in Washington D.C. On September 21, 2011 the DOD approved - 46 years and 3 days after his death. Kuewa's name was inscribed in time for Memorial Day 2012.
A bronze flower vase now sits at Kuewa's gravesite with a heartfelt message from his brother in war.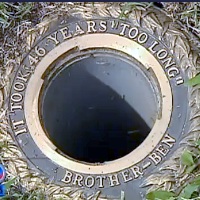 - The Virtual Wall
---
Veteran honored nearly 50 years later
Full story and video can be found at KHON2 Television, Honolulu, Hawaii
The story and video begins: "For 65 years the Waialua Lions Club's Memorial Day Service has honored the memory of North Shore soldiers who fought bravely for our freedom. But there was always one thing missing...."
"This is the final thing, so everyone is here to see it done," said Benjamin Ishida, Vietnam War Veteran and Albert Kuewa's friend.
This rest of the story is similar to the other KHON2 and Midweek.com articles, but focuses on the dedication of Kuewa and other Vietnam Veterans on the Lion's Club memorial.
Kuewa's siblings helped unveil their brother's name now permanently placed on the Waialua Lions Memorial Tower in his hometown of Haleiwa, next to 12 other North Shore Vietnam War Veterans.
"I think he would be happy and proud that his friend Ben went all out to have his name placed on the monument and walls," said Grace Kuewa, sister.
The Governor of Hawaii, his city and county also honored Kuewa by proclaiming May 27, 2012 as Navy Airman Albert K. Kuewa day. Read the Governor's full proclamation.
"Rest in peace Albert, your day is finally here," said his sister Grace Kuewa.
- The Virtual Wall
---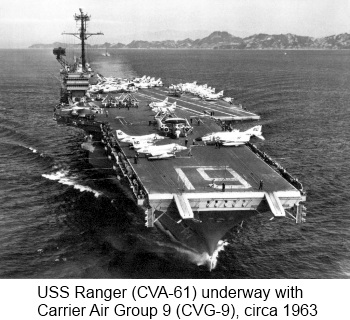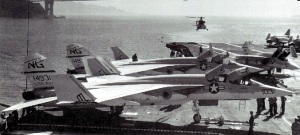 USS Ranger (CVA-61) departs San Francisco on 5 August 1964, en route to Hawaii and the South China Sea, and what would be her first Vietnam tour. The three North American Vigilantes visible in this photo show their folding wings and fin tips. They were assigned to squadron RVAH-5, "Savage Sons". AN Albert K Kuewa was killed in action 6 weeks after departing San Francisco on the USS Ranger.
- The Virtual Wall