29 Jan 2006

February 5, 2006
Birthday at Camp Heaven.
Cpl C. D. Lamm.
HAPPY BIRTHDAY, BUDDY.

Mundy

From a Marine brother - Parris Island, Camp Geiger, Iceland, and Vietnam,
T. J. Mundy
1707 Cross Bay Blvd, Broad Channel, NY 11693-1227



---

11 Nov 2006

Hello, Marine. Veterans' Day, November 11, 2006. Thinking of you and your family on this special day. The dedication of the new Marine Corps Museum is this weekend. There is a brick in your memory on the path from the main building to a memorial garden. You are not forgotten, buddy. I'll be going down to visit the museum soon. Maybe I can get there on the 26th. A friend and his wife may be able to stop by this week at the site since he will be going down to Williamsburg on I-95. He knows all about you as do all who know me. Your name is brought up frequently.

From a friend,
T. J. Mundy

Note
The photo at the top was taken in November 1966 at Marine Barracks, Keflavik, Iceland.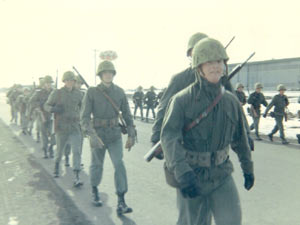 ---

February 5, 2007

Hello, buddy ... REMEMBERING YOUR BIRTHDATE. You would have been 60 years old today. I'm thinking of you and your family. Till we meet again! Your friend, "Mundy"


---

25 Nov 2007

Thinking of you and your family. It has been 40 years - 26 Nov 1967 to 26 Nov 2007 - since you gave your life for this country. To anyone who may read this Dwight's mother passed away last March. I had been in touch with her throughout the 70s and 80s, visiting and writing her whenever I could. I lost touch in the 90s right up till March 2007, when Dwight's cousin came upon this web site. The rest is history. He put me in touch with Dwight's sister who told me Mother would be passing soon. A few days later I was talking to her for her birthday and making plans to get down to N.C. from here in N.Y. I just booked a flight for the following Saturday [on Friday night] as I called Dwight's sister to tell her "I'll be seeing you tomorrow". She informed me that Mother had just passed away. I went down as planned but now for a different reason. Even though I did not get to see her before she died, as sad as that may be, I got to meet the whole family and what a family they are. I had never met any of them before this weekend, just Mother. Yes, we cried and we laughed and we talked about Dwight and Mother. Bill, Dwight's cousin [what a guy], drove me to where the house was that my wife, kids and I would visit Dwight's mom , and also to the town where Dwight grew up. So if you dropped by this site and just finished reading this, please take a short time out and say a little prayer for Mother, Dwight and this great new family of mine! "Mundy"

Tom Mundy
1707 Cross Bay Blvd, Broad Channel, New York
mundhp@aol.com