Following her death in 1969, many individuals and organizations honored Lane in a variety of ways. On June 10, 1969 Chu Lai, RVN Memorial Service Held and on June 11, 1969 Chu Lai, RVN Catholic Mass held in her honor. Her funeral services in Canton were held June 14, 1969.
On July 4, 1969, 1LT Sharon Ann Lane was posthumously award the Bronze Star Medal with "V" device for her efforts as noted below.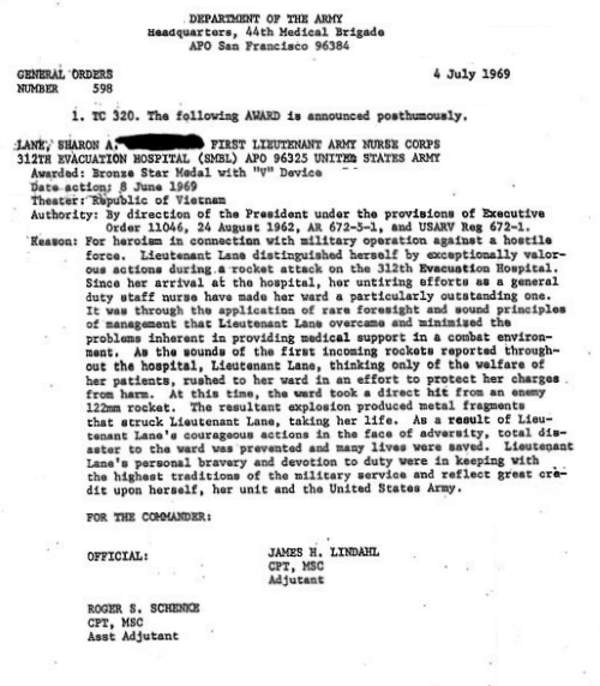 On 11 November 1969, the Fitzsimons Hospital named its recovery room the Lane Recovery Suite and put a plaque and a picture on display. In that same year, the Daughters of the American Revolution named her Outstanding Nurse of the Year, and posthumously awarded her the Anita Newcomb McGee medal in 1970.
In 1970, the 1965 Graduating Class from Aultman's School of Nursing put a plaque, picture, and poem written by a classmate, in Morrow House (the nursing school residence hall) in her honor. In that same year, The 1970 Class at Aultman School of Nursing dedicated their yearbook to her.
On October 18, 1970, Faircrest Memorial Junior High School was dedicated to Sharon Lane and four other servicemen from Canton South High School who lost their lives in Vietnam; a plaque for each one was placed at the entrance to the school.
On May 29, 1973, Memorial Day, a statue of Lane was dedicated in front of Aultman Hospital in Canton Ohio where she attended nursing school. It was dedicated by the William F. Cody Garrison #50 of the Army/Navy Union. This statue was built with funds raised in the community, and is one of the first Vietnam memorials constructed in the United States. Names of 110 local servicemen killed in Vietnam are listed on the base of the statue. The Aultman Health Foundation holds an annual ceremony honoring Lane at the statue.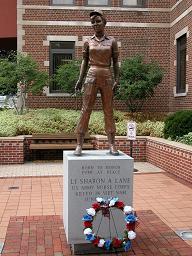 In 1986, the Aultman Hospital opened the Sharon Lane Woman's Center in its front lobby. The Sharon Lane Health Center, in conjunction with the Stark County District Library and the North Canton Public Library to offer comprehensive health information for our community. Located off the Aultman Hospital main lobby, the center is staffed by health education specialists. Patients, their families, students and community members are invited to use free educational resources.
On May 26 1986, The Canton Chapter of the Vietnam Veterans of America officially changed its name to the Sharon Lane Chapter #199,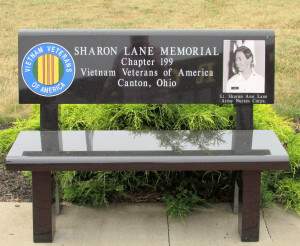 Roads and streets in Denver, Colorado, Fort Belvoir, Virginia, and Fitzsimons Army Medical Center (Aurora, CO) have been named in her honor.
On September 12, 1995, Fort Hood, Texas dedicated the Sharon Lane Volunteer Center.
In 2001, Fort Carson, Colorado, Evans U.S. Army Hospital dedicated the Sharon A. Lane Medical Library. A permanent display in her honor can be seen at the Ohio Society of Military History in Massillon, Ohio.
Also on & July 2001, Jay Maloney, a friend, on another site, recollected: "I was stationed at the 312th Evacuation Hospital when Sharon was killed. The damage to Ward 4 was quite severe that day. The round was a 122 mm rocket. I've read that she died of a single frag wound to her throat, but I recall seeing a single wound just below her clavicle. Memory does odd, unimportant things. It doesn't matter, does it? I recently returned to Vietnam (March 2001) and visited a new clinic built in the little Village of Tan Hiep, [Tan Hiep Commune-Chu Lai, Vietnam] 3 or 4 miles from the site of the old 312th, right on Highway 1. The clinic was paid for by Vietnam Veteran nurses in Sharon's memory. My wife and daughter were with me on that trip. My daughter's birthday is the same as Sharon's - 40 years to the day; '43 to '83. Interesting how time freezes for the dead. Sharon was a pretty 26 year-old. Now she'd be nearly 60."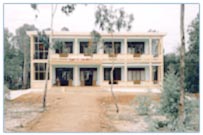 Sharon Ann Lane Clinic
Unknown location for "In Memory Of" Bench, but it has the Department of The Army Symbol so may be near an Army facility in the United States.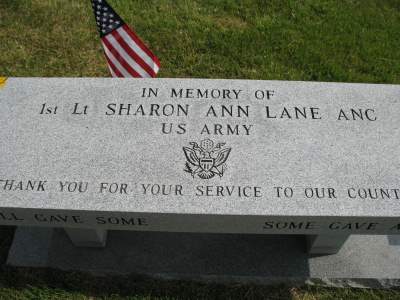 ---
- - The Virtual Wall, July 5, 2018