D Company, 1-11 Infantry relinquished responsibility for the security of FSB Fuller to the 2nd ARVN Regt, and departed FSB Fuller by foot. While enroute to the Khe Gio Bridge, sporadic 120mm and small arms sniper fire was received. Six (6) men were killed when the military aircraft was fired upon by a hostile enemy and it crashed and burned while attempting the evacuation of wounded soldiers near the DMZ. Lt Schmitz was the pilot. The men were:
D Company, 1st Battalion, 11th Infantry Regiment, 5th Infantry Division

237th Medical Detachment, 67th Med Group, 44th Med Brigade, USARV
He was reported missing on 10 May 1970 but changed to dead on 23 May 1970. He was survived by his parents, A J Largent (1920 - 2006) who served in the US Army as a 1st Lieutenant and his mother, Lucy Ruth Duggan Largent (1922 - 2001) who were living on Alice Street, Rochester Michigan. They all are buried in White Chapel Memorial Park Cemetery, Troy, Oakland County Michigan.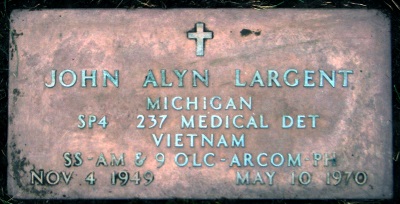 - - - The Virtual Wall, May 27, 2016