John Alfred Lassiter, son of Doris G and John H Lassiter, was killed during an ambush near Khe Sanh Combat Base, South Vietnam.
The 1/26 Marines Command Chronology for February 1968 contains the following entry:

At 9:15 AM, 25 Feb 3rd Plt, Bravo 1/26, a platoon minus security patrol, was taken under automatic weapons fire and was also receiving grenades fro bunkers and trenches at XD849409. Artillery and mortar fire was called to assist in withdrawal. Support elements moved into position to provide cover by fire. The enemy force was estimated to be a Company of larger. Contact resulted in 24 friendly MIA, 17 friendly WIA, and six friendly KIA.

The patrol was about 1 kilometer south of the Khe Sanh Combat base when it came across an NVA observation post. The Marines opened fire on the NVA troops, who withdrew south. The Marines pursued the NVA and in so doing entered an ambush zone. The NVA allowed the Marines to approach within 15 feet before opening fire from concealed bunkers, spider holes and trenchlines. A reaction platoon was sent as reinforcements, but when it attempted to outflank the enemy position the platoon leader realized that his unit was being outflanked and sandwiched between the NVA position and additional enemy troops.

The best the platoon leader could do was to provide covering fire for the remnants of the patrol as they withdrew, bringing out their wounded and six of their dead - but 24 men, most of them known to be dead, could not be brought out. Three of the 24 were able to evade the NVA on their own and made their way back to friendly lines.

At the end of the day Bravo Company 1st battalion 26th Marines had one confirmed KIA (Donald Jacques), 25 missing presumed dead, and 21 wounded.

Initially, 9 of the remains recovered could not be identified and were interred in a mass grave at Jefferson Barracks National Cemetery. The burial took place in September 1968. John Alfred Lassiter is one of the 8 men interred here.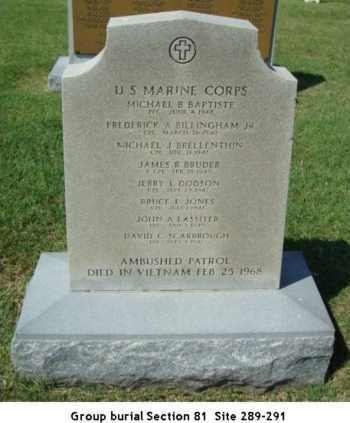 SP4 JOHN ALLEN LASSISTER
Originally, on the memorial of the grave (above) was the name of Pfc. Ronald Ridgeway whose family in Houston received word of his death. In 1973 it was discovered that Ridgeway had survived and was captured the night he, Pfc. Willie Ruff, and Lcpl. Charles Geller had lay there playing dead awaiting rescue. Ridgeway was the only survivor. He was captured and imprisoned in Hanoi until his 1973 release.

Read Ambush at Khe Sanh here and see the list of 27 men who gave their lives that terrible foggy morning and the 10 men on 30 March attempting their recovery. Also read a detailed article of Company B's efforts here, along with photos and details about some of the men who were killed during that ambush and B Company's subsequent recovery effort.
- - - The Virtual Wall, April 4, 2014.