20 Oct 2007

I spoke with Hoi the evening before his death. He was a gentle and caring medic who was dedicated to his job. Hoi told me that he had planned to pursue medicine when he returned to the World. If my memory serves me correctly, I believe he also told me his family was originally from Taiwan.

Of all the deaths I witnessed in Vietnam, the killing of Hoi Tin Lau was the most traumatic. His death affected me more than any other, most likely because he was there to preserve life not take it. My heart stopped for an instant as I watched Hoi being cut down by a sniper. His death left me greatly saddened and inflamed. I truly believe that Hoi Tin Lau would have gone on to serve humanity in a significant way.

Hoi received the Silver Star for his bravery and devotion to his fellow troopers along with the Purple Heart. He also earned the love and respect of A Company, 2nd Battalion, 12th Cavalry.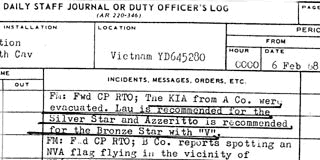 I wrote a story about that awful day of February 3rd, 1968 for the 12th Cavalry web site; the name of the story is "The Battle at Thon La Chu". This is an excerpt from that story.
One of the troopers from 2nd platoon moved up a lane in the village, and, as he did, a sniper shot him in the shoulder. The platoon's medic, Hoi Tin Lau, and another soldier left a safe position to give aid to the downed soldier. Lau ran to the trooper, dropped to his knees, and opened his medic bag. Then, as I watched, he was shot by the sniper and fell dead next to the wounded trooper. The other soldier crawled off into a ditch along the side of the road. I had talked with Hoi Tin Lau the night before. He was a wonderful, gentle, and caring medic who looked much younger than his years. What a terrible, terrible loss! I think of him often.
From a cavalry brother,
David Dulin Dentinger
david.dentinger@insightbb.com