Albert Louis Lazzarotto
Private First Class
A CO, 1ST BN, 5TH INF RGT, 25 INF DIV
Army Of The United States
01 June 1947 - 11 September 1968
River Grove, IL
Panel 44W Line 026
The database page for Albert Louis Lazzarotto
Albert L Lazzarotto was killed in action on 9/11/68 in a night defensive perimeter (Ben Cui 3) outside of Dau Tieng.
We called him Laz ... I remember him as a really nice and fun guy to have in the squad. As he was a member of my squad he came at a time when we were short on riflemen so that was his job. He stayed a rifleman for the time that he was with 2nd squad 3rd platoon of A Co.
The night that he was killed A CO lost 3 men. We think that Laz got hit by an RPG but we really did not know. The fighting was so bad that night that the dust off could not get in so we lost Laz to shock and lack of blood as much as anything.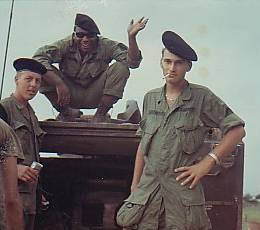 Left unknown, Sergeant Polesy center, LAZ on right
Photo courtesy of Charles Kennedy
---
A memorial from one who remembers,
Randy Kethcart
randy@bobcat.ws
7 Aug 2001
---
With all respect
Jim Schueckler, former CW2, US Army
Ken Davis, Commander, United States Navy (Ret)