24 May 2007

To my Blackhorse Platoon Leader

I wanted to stop and pay tribute to this young patriot with a multitude of thanks for his service to our country.

It was an honor to have served under LT Lewis in G Troop, 2nd Squadron, 11th ACR.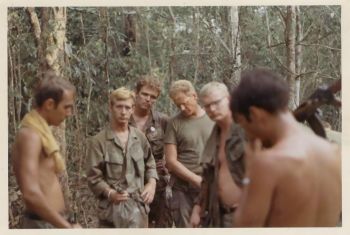 An after-action photo taken April 1970 in the Fishhook area of Tay Ninh province shows LT Lewis standing fifth from the left with his men in an after-action photo at an ambush site.
He was a fine man and one of the best Blackhorse platoon leaders I had the pleasure to serve with.
I am sure he is missed by many friends.
As said best in that inscription at Arlington National Cemetery
"Rest easy, sleep well, my brothers.
Know the line has held, your job is done.
Rest easy, sleep well.
Others have taken up where you fell,
the line has held. Peace, peace, and farewell..."
Rest well in the Mighty Hands of God, LT Lewis, and know that you will never be forgotten.
Fiddler's Green is that happy land imagined by cavalryman where there is perpetual mirth, a fiddle that never stops playing and dancers who never tire. It was featured in old English legend:
When he comes to a pretty little village deep in the country and the people ask him what he is carrying ... he will know that he's found Fiddler's Green. The people give him a seat in the sun outside the Village Inn with a glass of grog that refills itself every time he drains the last drop and a pipe forever smoking with fragrant tobacco. From then onwards he has nothing to do but enjoy his glass and pipe and watch the maidens dancing to the music of a fiddle on Fiddler's Green.
Fiddlers Green is mentioned in a ballad anonymously written for the US Cavalry and published in a 1923 US Cavalry Manual. It is still used in modern cavalry units to memorialize the deceased:
"In a shady meadow green,
Are the souls of all dead troopers camped
Near a good old-time canteen.
And this eternal resting place
Is known as Fiddler's Green. "
From a comrade of this patriot who made the ultimate sacrifice in Vietnam in 1970 - I will see you in Fiddler's Green.
John Nichols
snichols3066@charter.net