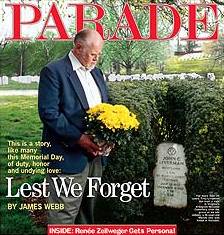 My office looks out on Arlington National Cemetery. ... I often stroll its rolling hills and think of those who served our country during troubled times, now gathered in their final formations.
It was there, 10 years ago, that I first noticed Troy Liverman. He was on his knees, tending a grave ... I assumed he was a retired career solder who had been wounded in World War II and Vietnam, perhaps visiting the grave of a departed wife. But on my next visit, I went to the grave and saw that it belonged instead to his son. Marine Lance Corporal John C. Liverman, 19, had been killed in Vietnam on December 11, 1968.
I would see Troy Liverman several times a year after that, on his knees before his son's headstone.
It took me a long time to approach Troy Liverman, but once we met, it was only minutes before I began to think of him as a friend.
He became a soldier at 17 and in the final months of World War II was seriously wounded by a German mortar shell. ... Like their father, when their time came, [his] three sons volunteered for the military. The eldest, Robert, now a corporate executive in Texas, was wounded in Vietnam in 1968 as an Army lieutenant, calling artillery onto his own position to stop an enemy attack. The youngest, James, who died five years ago of a liver ailment, served in the Marines after High School. But the middle son, Johnny, had it the hardest.
A shadowbox on a wall in Troy Liverman's rural Virginia home binds him and his sons together -- four men, three Bronze Stars, six Purple Hearts.
Johnny reached Vietnam in January 1968, just in time for the Tet Offensive, the worst fighting of the war. He was 18. His childhood friend and next-door neighbor, "Trippy" Streeks, had just been killed during the siege of Khe Sanh.
Johnny reported to the famed "Walking Dead" -- First Battalion, Ninth Marines -- and was immediately thrown into heavy combat. In early March he was wounded in the shoulder by shrapnel. In late April he was hit again by shrapnel and suffered a serious gunshot wound to his thigh.
His wounds entitled Johnny to go to Okinawa, where he could have remained for the rest of his tour. But he grew restless. Learning that a close friend from his old unit had been killed, he volunteered to return to combat.
Back in Vietnam, Johnny was assigned to the Second Battalion, Fourth Marines, in the rugged terrain near the demilitarized zone. On Dec. 11, 1968, his company fought an extended battle along infamous Foxtrot Ridge. Johnny was wounded for the third time early in the battle. As the fight wore on, a bullet hit him in the head.
Johnny was buried a few days after Christmas on a slope that looks out from Arlington toward the monuments on the other side of the Potomac River, a short walk from the Iwo Jima Memorial.
Every time I pass Johnny Liverman's grave in my strolls through Arlington, I think of son and father, father and son. I am thankful I lived to bury a father who had entered his dotage, and I pray that when I am a very old man, my son may likewise bury me. But always in my heart I will honor Johnny and the others like him, who got straight with themselves, who disregarded shrapnel and gunshot wounds and went back to finish the job. Who gave us everything they had. And who, as we grow old, will always be 19.
---
Photo and exerpted text used with the kind permission of
PARADE Magazine and James Webb.

The full text is located on the
Arlington Cemetery site