Lawrence Clarence Looby
Lance Corporal
3RD PLT, D CO, 1ST BN , 7TH MARINES, 1ST MARDIV
United States Marine Corps
03 July 1947 - 14 February 1969
Lincoln, NE
Panel 32W Line 033
The database page for Lawrence Clarence Looby
Larry Looby was KIA on February 14, 1969 along with Mike Wyman and James Patrick Witt. He was a M60 Machine Gunner as was Mike Wyman. Larry had been told only a few days before that he had become a father for the first time. A daughter. Larry was a good Marine and more importantly a good person.
Neil Wilson Delta 1/7
---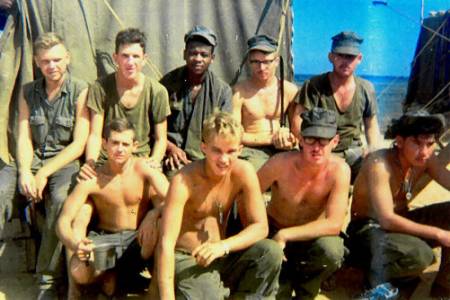 Delta Company, 3rd Platoon, Guns Squad.
Larry Looby is third Marine from left in front row. Hill 37, 1968.

---
A photo album of 3rd Platoon, Delta 1/7 Marines, is located at
http://public.fotki.com/smokey1/third_platoon_delta/
---
With all respect
Jim Schueckler, former CW2, US Army
Ken Davis, Commander, United States Navy (Ret)
Channing Prothro, former CAP Marine
Last updated 08/10/2009