Ronald Sidney Lowe
Specialist Four
221ST SIGNAL CO, 160TH SIG GRP, 1ST SIGNAL BDE, USARV
Army of the United States
14 March 1949 - 09 May 1970
Norfolk, VA
Panel 10W Line 007
The database page for Ronald Sidney Lowe
9 May 2001
Dad
I never knew you and have felt an emptiness all my life. But in a way I never lost you because I feel your presence with me every day. I had my own war when I was 21 and Mom almost lost her mind. I was selfish and angry but we all made it through. You were with me through that and I feel even closer to you now. I am getting my Masters now, Dad, and am engaged to a beautiful woman who I know you would adore, Mom does.
I miss you Dad.
If anyone knew my Father in Vietnam please email me at
Ronbo1775@yahoo.com
From his son,
Ronald Sidney Lowe Jr.


---

Left to right:
Chuck Hayward, Rich Haney, and my Dad
---
A monument to the combat camera crews in Vietnam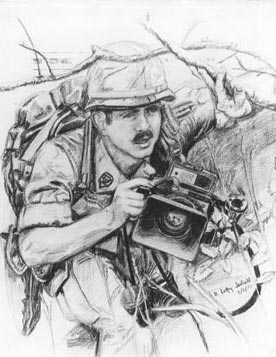 Drawing by SP4 LeRoy Jesfield, 221st Signal Co.
Courtesy of the Executive Officer, 221st
Used with permission

The Mission
A UH-1D Huey (tail number 65-10079) of the 189th Assault Helicopter Company was carrying a combat camera crew when it was shot down. Nine men died in the crash:
From the 189th AHC:

WO1 John David McCluskey, aircraft commander
1LT Colin Plummer Hurd, copilot
SP4 Johnny Lee Fulton, crew chief
PFC David Joseph Corpus, gunner



From the 221st Signal Company combat camera crew:

SP5 Christopher J. Childs III
SP5 Douglas John Itri
SP4 Ronald Sidney Lowe
SP4 Larry Clayton Young
PFC Raymond Louis Paradis
Taken from
Vietnam Helicopter Pilots' Association
records.
---
With all respect
Jim Schueckler, former CW2, US Army
Ken Davis, Commander, United States Navy (Ret)
Channing Prothro, former CAP Marine
Last updated 08/10/2009