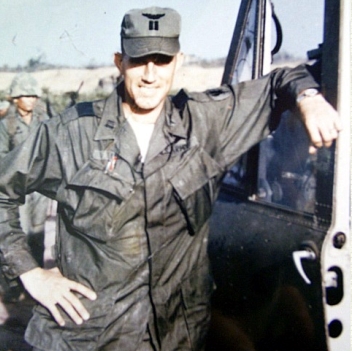 Fond memories of the family taken from the obituaries of his parents Arnold T and Mary L Luke:
Arnold's father, Arnold Terrell called his parents Mama and Papa. His grandparents were called Ma and Pa.

As a child, Arnold T's father remembered riding often in a wagon full of hay as his father went to town. In town, Arnold T's father would buy him an ice cream cone.

As a teenager, Arnold T. would often comb and braid his grandma Rosie's hair. The family would often go into a swamp to camp and fish.

Arnold T. remembered that as children, they would get fruit, nuts, boxes of raisins, and little toys at Christmas. Once a year they would also get new shoes.

The Luke children, as they grew up, would make wagons, tom walkers, and swings. The boys would play ball and aggravate the girls.

Arnold T's father died when he was a young man. He had to quit school to work and help take care of his family.

Arnold's father and Aunt were considered "the best dancers" and as such, would go to local dances together and 'perform'.

Arnold's mother Mary met his father Arnold T, her future husband, at "one of those dances" in 1940. Mary was said to have asked a friend, "who was that good looking boy over there". The friend said that "he is one of those Luke boys from the backwoods." It was love at first sight.

Arnold Terrell Luke married Mary Louise Cheatham on 25 May 1940, after borrowing $10 from his Grandma Luke to get a marriage license. They initially lived with his mother until they got their own place.

Their first child, Arnold Wayne "Buddy" Luke was born in 1941. They lived near Philadelphia, Mississippi and worked as sharecroppers until World War II.

During the war, both Arnold's parents got jobs working in the shipbuilding industry in Pascagoula, Mississippi and Detroit (Highland Park), Michigan. They also worked in New Orleans, Louisiana, and Florida.

When Arnold's parents heard of work available in the State of Washington, off they went on new adventures with their son. They earned a living picking fruit at orchards in Tieton (near Yakima).

During some of their travels, Arnold's maternal grandfather, Winner Cheatham would sometimes go with them and take care of their him as his parents worked. After the war, the family returned to Mississippi and later had their second son (John) in 1948.

Arnold T. obtained a job at Blounts Dairy, just outside Philadelphia, Mississippi. Arnold's mother Mary remembered passing through California on their way to Washington State a few years earlier and always wanted to return someday. In 1952, the Luke family (with their two sons) caught a Trailways Bus and moved to Los Angeles.

The first night in Los Angeles was at Cecil Hotel, near the bus station. The next day, they heard about a job opening at a water bottling company in Highland Park. Arnold T. called the company and got the job. The next day, the owner picked them up and drove to Highland Park. His father's new boss found them a house the same day. Arnold T and his wife made Highland Park their home for the next 49 years.

In 1954, Arnold's sister Melissa was born. Mary graduated from Los Angeles City College as a registered nurse. Later, she served as Director of Nurses at a nursing home.

Wayne, an army helicopter pilot was on his second tour in Vietnam when he was killed as his helicopter crashed in 1968. The death of her son was devastating to Mary. It affected here for the rest of her life. It was like something had been ripped from her heart - the son who always said, "he would take care of his Mother and Father when they got old." But now, that could never be!

Arnold retired in 1991. Arnold and Mary sold their home in 2001 and moved to Temecula, California to live near their daughter. Arnold T loved going to church, going to coffee shops, and talking to friends. Mary loved to go hunting for that special "treasure" at thrift stores every Saturday - dragging both John and Melissa with her. Mary enjoyed reading and collect books, something she missed later in life, when her eye sight began to vanish.

In November 2010, Arnold T. was diagnosed with cancer. He was strong, good spirited, and loved life until the last. They had been married 74 years when Arnold passed away in 2011. She passed away in 2014.
---
CPT Arnold Wayne Luke was survived by his wife, Dorothy Alexis (Siebert) (1944- ) and daughter, Los Angeles; his parents, a brother CWO John Luke (1948- ), Bethesda MD (in 2005); and sister Melissa (1954- ).
CPT "Buddy" Luke is buried with his parents, Mary Louise (1922-2014) and Arnold Terrell Luke (1922-2011) in Rose Hills Memorial Park, Whittier, Los Angeles County, California.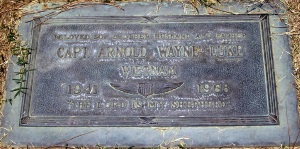 ---
- - The Virtual Wall, September 9, 2016