Balfour Oliver Lytton, Jr
"Sonny"
Staff Sergeant
DET B-20 (2ND MSFC), B CO, 5TH SF GRP, SPECIAL FORCES
Army of the United States
22 May 1944 - 25 March 1968
Rockville, Maryland
Panel 46E Line 020
The database page for Balfour Oliver Lytton, Jr
13 Feb 2001

Sonny

You are forever in my thoughts. I have your flag and your medals. My son has your watch. Most of all I have my memories. Whenever I hear a Harley, I remember the ride that should have lasted a half hour but lasted for 2 hours. I am proud that you served in Vietnam and that you were a Green Beret. The song "The Ballad of the Green Beret" still brings tears to my eyes.

I LOVE YOU

Your cousin,
Deloris
leftie1951@aol.com

A Note from The Virtual Wall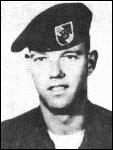 Staff Sergeant Lytton was serving his second tour in Vietnam when he was killed in action. While the text of his Distinguished Service Cross Citation is not available, other information indicates that after his platoon from the 2nd Mobile Strike Force Company was heavily engaged and he himself wounded, SSG Lytton was killed while covered the platoon's withdrawal.
---
With all respect
Jim Schueckler, former CW2, US Army
Ken Davis, Commander, United States Navy (Ret)
Channing Prothro, former CAP Marine
Last updated 08/10/2009