Neil Kirk Mac Iver
Private First Class
DET A1-114 (SON HA), SF GRP VIETNAM, MAAGV
Army of the United States
13 October 1943 - 29 May 1963
Takoma Park, Maryland
Panel 01E Line 023
The database page for Neil Kirk Mac Iver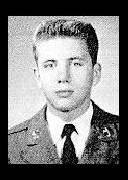 REMEMBERED
Two men of the Special Forces detachment at Son Ha, Quang Ngai Province, died in an ambush on 29 May 1963:
CPT James H. Brodt
PFC Neil K. Mac Iver
I did not know Neil , except for the fact we bear the last name. He was an early casualty as he was killed when only there were advisors in Vietnam. The Clan Mac Iver is a small Scottish clan and the name is not common. I must admit that I know nothing of his unit of assignment or cause of death but I do know the loss of him and to his family. I would hope that his friends and family can contribute something to his memorial as the years slip by and their loss needs to be remembered.
---
With all respect
Jim Schueckler, former CW2, US Army
Ken Davis, Commander, United States Navy (Ret)
Last updated 08/10/2009