Orrie E Macomb, Jr
Corporal
B CO, 1ST BN, 3RD MARINES, 3RD MARDIV
United States Marine Corps
09 March 1945 - 18 May 1967
Great Valley, New York
Panel 20E Line 032
The database page for Orrie E Macomb, Jr
27 Jun 2004
Sadly missed by friends and family.
From a family friend,
Lorna Button
E-mail address is not available.
31 Jul 2004

I just wanted to say a prayer for the Uncle that I never knew! Thank you for all that you gave so that we could be free! I wish that I could have gotten to know you! Heros are far and few between.

Love from Jennifer Macomb Loomis, Terry's Daughter.

P.S. If you get this please say "Hi" to my brother - I miss him so much. Jennifer

From his niece,
Jennifer Macomb Loomis
jnnfloom@aol.com

14 Jun 2007

It's been 40 years already, and I still miss your happy smile. To show you respect, I'm doing a profile for you on the TWS web-site. We had some good times together and will never forget them!!

All family members please feel free to contact me.

From an old Marine Corps buddy and freind,
Carl White
301 Harper Coulee Road, Roundup, Montana 59072
cntranch@wb.midrivers.com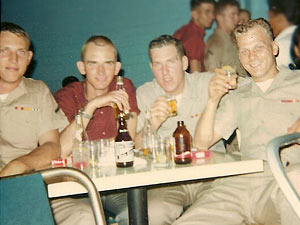 From left to right,
L/Cpl Charles Watkins, L/Cpl Kerns, Cpl Carl White, Cpl Orrie Macomb.
Taken at Subic Bay, The Philippines.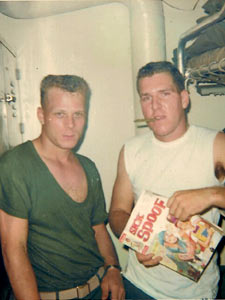 Cpl Orrie Macomb (left) and Cpl Carl White on USS OKINAWA.
A Note from The Virtual Wall
Five men from Bravo Company were among seventeen 1/3 Marines killed in action during the initial landings of Operation BEAU CHARGER. They were
2ndLt Joseph T. McKeon, Chicago, IL (Silver Star);
Cpl Orrie E. Macomb, Great Valley, NY;
Cpl Clyde U. Mitchell, Winston-Salem, NC
Pfc Dennis D. Kramer, Placerville, CA
Pfc John T. Wilson, Phoenix, AZ
BEAU CHARGER was one of four coordinated assaults into the Demilitarized Zone which divided the two Vietnams. Details of the operation and a listing of known Marines and sailors who died in the fighting between 18 and 29 May 1967 can be found on The Virtual Wall's Operation HICKORY memorial.
---
With all respect
Jim Schueckler, former CW2, US Army
Ken Davis, Commander, United States Navy (Ret)
Memorial first published on 27 Jun 2004
Last updated 08/10/2009