How US Soldiers Died
Too Wounded to Walk, 2 Are Slain by Guerrillas
Wounded Yanks were killed by Red Guerillas
Two Army Sergeants Shot When they were unable to walk
BODIES FOUND
Survivors of Jungle Ambush in Vietnam Tell of Attack
Those were the article headlines in the Pacific Stars and Stripes and other American Newspapers on Wednesday, April 11, 1962. Some of the article text below is located in the P.O.W. Network Biographies for Quinn, Gabriel, and Marchand. The newspaper article clipping from several newspapers are difficult to read. The Stars and Stripes article is maintained in the Coffelt Data Base and used by The Virtual Wall for documenting unit and other information on memorial pages. The combined articles and information are as follows:
Da Nang, Republic of Vietnam (AP) –– Communist guerillas killed two captured U.S. Army sergeants because they were too badly wounded to walk any farther, the survivors of a jungle ambush reported Wednesday. The American's arms had been bound behind them.
Vietnamese patrols and air forces were still searching the jungle area 45 miles east of the Laos frontier for two other American army sergeants who were captured in the attack on a bivouac Sunday.
The U.S. Army identified the slain soldiers as Staff Sgt. Wayne E. Marchand Plattsmouth, Nebraska, and SP5 James Gabriel, Jr of Honolulu Hawaii.

Gabriel & Marchand Names on Vietnam Veterans Memorial Wall
The two missing men are SFC Francis Quinn of Niagra Falls, New York and SGT George E. Groom of Stewartsville, Missouri (both men repatriated 5-1-1962).
All four soldiers were members of an Army Special Forces unit which specializes in anti–querilla warfare and were engaged in training a village self–defense group.
Survivors told U.S. authorities the two slain Americans were seriously wounded in the attack by Viet Cong guerillas who over–ran the camp.
After the camp fell, one was seen being carried away by one of the other Americans who apparently escaped injury. The other wounded man was being helped by a Vietnamese Interpreter assigned to the Americans.
The bodies of the two wounded were found in their uniforms less than two miles from the scene of the attack. Both had been shot in the face with heavy caliber revolvers. Their arms had been bound behind them with their shirts.
Authorities said the two men were apparently wounded early in the attack as they had been bandaged with American medical supplies
Marchand, Gabriel, Quinn and Groom had gone out on a training mission last Thursday with about 35 Vietnamese. (End of Stars & Stripes Article) They made camp Saturday night near the village of An Chau, 10 miles west of the heilcopter base and not far from the coast of the South China Sea. The general area is about 360 miles North of Saigon.
About 8 a.m. Sunday, headquarters here (Da Nang) received word that the camp was under heavy attack by Viet Cong guerillas estimated in company strength. Three minutes later, a second message said the camp was being overrun. A relief force sent by U.S. Army helicopters and trucks arrived in about an hour. But the attackers had disappeared in the jungle.
The article at this point continued into summarizing the week's casualties for both American and South Vietnamese units and the various ongoing operations.
Quinn and Groom were released by their Viet Cong Captors.
George E. Groom was released 05/01/62
Francis Quinn was released 05/01/62
---
The news article below provides information on the release of the 2 soldiers captured and again explained what happened to Gabriel and Marchand after the 4 men were captured by the Viet Cong.
---
SSG Marchand was awarded a Bronze Star for valor.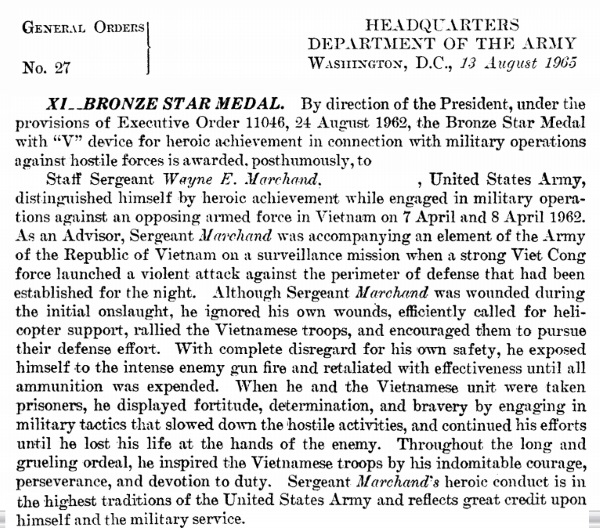 SSGWayne Ellsworth Marchand (1932 - 1962) was survived by his parents: Ada Elizabeth Jones Marchand (1911 - 1986) and Jessie James Marchand (1908 - 1982) and siblings James Leroy Marchand (1934 - 2006), Jerry Gene Marchand (1937 - 1964), Eugene Charles Marchand (1939 - 2002), Ronnie Marchand (1941 - 2010), Bobbie N. Marchand (1946 - 2001). He was predeceased by brother Jessie Marchand (1931 - 1931). They all are buried in Lafayette Cemetery, Brock, Nebraska.