SP4 Marrufo entered on active duty on 10 July 1967 for his basic training at Fort Bliss, Texas. Upon completion of basic on 1 September, he proceeded to his Advanced Individual Training in Infantry with 2nd Battalion, 5th Training Brigade, Fort Polk Louisiana.
Rodney Marrufo's Basic Training ID Photo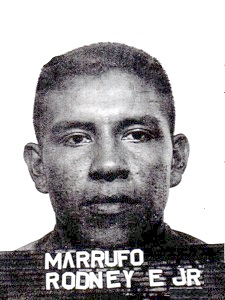 From Left to Right: Edward G Rainford, Charles P Torliatt Jr., Rodney C. Marrufo Jr. & Larry Jones.
Date and location unknown
He departed on leave in the United States on 10 November 1967 en route to the U.S. Army Pacific and Vietnam where he began his tour on 19 December 1967.
From then until 12 March 1968, he was with the 25th Infantry Division, 38th Infantry Platoon (Scout Dogs) as a Scout Observer, receiving his dog training, earning the MOS of 11B1D (Infantryman, Civil Affairs).
On 13 March, he was assigned to the 66th Infantry Platoon (Combat Tracker) of the 25th Infantry Division.
SP4 Marrufo was wounded when hit by fragments from a 'friendly' rocket that was launched against the enemy. He was admitted to a military hospital where he 'later expired' on 23 May 1968. The Virtual Wall records do not have a date of the incident and we don't know how much 'later' after the incident SPF Marrufo expired. We think perhaps it was later the same day because SFC Billy Joe Parrish went missing during a hostile firefight with the enemy on 23 May 1968. His body was recovered and identified as of 27 May when his status was changed to Killed in Action. He may well have been the Team Leader for SP4 Marrufo. Both men were awarded a Silver Star.
---
SP4 Rodney Elmer Marrufo, Jr. was survived by his mother Alice Fay (Frank) (1927-1990) (Native American), his father Rodney Elmer Marrufo, Sr. (1922-1991) (a Native American registered member of Cashia Tribe & Stewart's Point, Reservation: Round Valley), his brothers Harold John "Stiff" Marrufo (1949-1996), Dale Douglas "Gus" Marrufo (1951-2007), and sister Shirley Ann Marrufo-Smith ( -2013).
His burial location is pending verification.
---
- - - The Virtual Wall, October 3, 2016