30 Oct 2003

How I miss the Father I never knew.

I often think "Why was he taken from me, why did I have to lose my Daddy?". I was 11 months old when he was killed. On the day he was killed, I started to walk and I said what came to be the words that haunt my heart - "Bye-Bye Daddy". These words haunt me to this day. He never got to know his child. The little blonde-haired blue-eyed baby girl that he loved so very much. On the day I came home from the hospital, he had a banner that said

"Pink is for her blanket,
Yellow is for her hair,
Blue is for her eyes,
Let's hear it for Little Girls!"

In 1991 my daughter was born - his one and only Grandchild, that he would never get to know. My daughter wore home the same dress that I wore home from the hospital. It was one of the only pieces of clothing that I had that he picked out and bought for me.

In 1992, on the anniversary of his death, I had to have surgery. I died according to the doctors. I saw my father and he was as good looking and wonderful as I knew he would be. He looked at me and told he it was not my time but someone would pass on with in the next 4 months. It happened - his father, my grandfather, died 4 months to the DAY of the surgery. I know my Daddy is my Angel and I love him for it.

As Toby Keith (my favorite country music artist) says in his "Angry American" song, I would love to hear from anyone that served with my Dad. I don't know any information other than his training was in Fort Cambell, Kentucky.


---

12 Dec 2003

Since the posting of this message, I have received emails and phone calls from men who knew or knew of my Dad. God Bless You. Thank You for helping me find information and understanding what really happened on that day back in March of 1971.


---

14 Jul 2004

I want to thank everyone who has given me information about my Dad and the day of the accident. It has meant the world to me. I want to put a note out there to the other family members of this unit, I would love to hear from anyone from this unit. My heart and love goes out to everyone.


---

15 Feb 2006

Happy Birthday Papa!
I Love You with all of my Heart!
I miss you every day! Love You.
RuthAnne Martin


---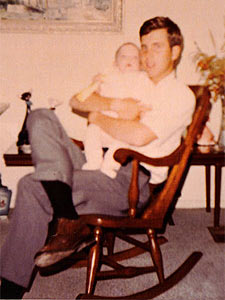 From his daughter,
RuthAnne Martin
Phoenix, Arizona
countrygirl7791@cox.net