James David McAlister
Private First Class
H&S CO, 2ND BN, 9TH MARINES, 3RD MARDIV
United States Marine Corps
13 November 1947 - 16 February 1968
Binghamton, New York
Panel 39E Line 068
The database page for James David McAlister
24 Dec 2004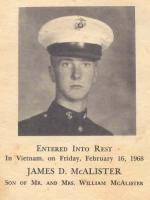 REMEMBERED
I was a small boy at the time of James' death so I know little about the man. I was told he was the son of a friend of my father's, and that James had been in Viet Nam a total of three days. I did not know James, but feel his memory should be honored.
From a friend.
E-mail address is not available.
A Note from The Virtual Wall
According to the casualty database, Pfc James McAlister arrived in Vietnam on 12 February 1968, at the height of the Tet Offensive. Four days later, on 16 February 1968, he was killed by enemy artillery fire.
---
With all respect
Jim Schueckler, former CW2, US Army
Ken Davis, Commander, United States Navy (Ret)
Memorial first published on 24 Dec 2004
Last updated 08/10/2009