Notes from The Virtual Wall
Paul T. McClellan
died in the fighting in the
Ia Drang Valley
November 1965.

Visit the
Landing Zone X-Ray site

and The Virtual Wall's
Ia Drang Memorial
On the morning of 14 Nov 1965 four companies of the 1st Bn, 7th Cav, were airlifted into Landing Zone X-RAY in the Ia Drang Valley, where they immediately were engaged by a very superior North Vietnamese Army force. Heavy fighting ensued, and Air Force aircraft based at Pleiku were called in for air support. At about 3 pm Captain Paul T. McClellan's A-1E was hit by enemy fire as he was making a low-level firing pass over the Landing Zone. His Skyraider, trailing smoke and flames, crashed two kilometers northeast of the landing zone, killing McClellan. When enemy soldiers tried to reach the wreckage, U.S. gunships destroyed them - and the aircraft - with rocket fire.
Captain McClellan's remains were not recovered.


---

The A-1 Skyraider was developed by the Navy during World War II but didn't enter fleet service until after the war ended. It served very well as a ground attack aircraft in Korea and had a well-earned reputation as a sturdy, reliable aircraft capable of carrying a wide range of ordnance and was still in Navy service in the 1960s. As Vietnam heated up the Air Force recognized the value of the "Spad" and obtained a number of aircraft from the Navy. USAF A-1 training was conducted at Hurlburt Field, part of the Eglin AFB complex in the Florida panhandle. The photo below is of class "Express 12":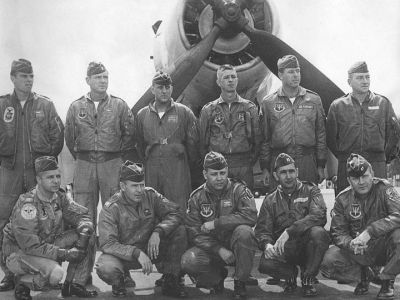 Back row: Capt John V. Duell; Maj John P. O'Gorman; Capt Donny D. Clemens; unknown; Capt John R. Gearhart; Maj Wallace A. Ford. Front row: Capt Oliver C. Chase; unknown; Capt Paul T. McClellan; Capt J.B. Ledbetter; unknown. Not pictured: Capt R. V. Arbuckle; Capt Don R. Hood; and Capt William H. Kyle.
Four men from Express 12 died in Vietnam:
Capt Oliver C. Chase, 1st ACS, A-1E 52-131414, Binh Dinh Province, 22 Jul 1965
Capt Don R. Hood, 602nd Ftr Sqdn, A-1E 52-132593, Binh Dinh Province, 02 Oct 1965
Capt Paul T. McClellan, 1st ACS, A-1E 52-132898, Pleiku Province, 14 Nov 1965
LtCol Wallace A. Ford, 606th ACS, A-1H 52-137620, Quang Tri Province, 24 May 1968
Perhaps oddly, more Air Force than Navy pilots died flying the Skyraider in Vietnam; as the Air Force increased its inventory of A-1s the Navy phased the aircraft out of service - it was judged not survivable in the much higher threat area of North Vietnam where the Navy was flying.