Wayne Allen McConkey
Captain
21ST AVN CO, 212TH CAB, 1 AVN BDE
Army Of The United States
08 June 1943 - 15 September 1970
Shenandoah, IA
Panel 07W Line 066
The database page for Wayne Allen McConkey
But these also were godly men,
whose righteous deeds have not been forgotten.
Their offspring will continue forever,
and their glory will never be blotted out.
Their names live on generation after generation.
Ecclesiasticus 44:10-14
---
The Mission
Two men died when their O-1 BIRDDOG aircraft was hit by enemy fire:
CPT Wayne Allen McConkey, pilot, 21st Avn Co
1LT Albert Frank Ammann, 23rd Inf Div, observer
From the Annual Supplement to the History of the 21st Aviation Company (Utility Airplane), 212th CAB, 1 January 1970 - 31 December 1970, prepared by Captain Robert J. Gehrke, Unit Historical Officer:
"The 21st Aviation Company lost one officer who was killed in action during 1970. Captain Wayne A. McConkey was killed as a result of hostile fire to the east of Tra Bong on 15 September 1970. Captain McConkey was the second aviator killed in the history of the 21st Aviation Company."
09 December 2001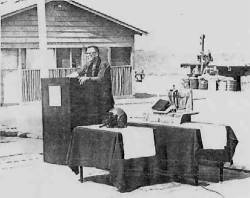 I was at McConkey's memorial and if this isn't a photo of his memorial service, then it is identical to it - the original photo is in the National Archives. The service is being held on the volley ball court, made of PSP (pierced steel planking) lined with sandbags. I don't know who the chaplain is, whether he came down from Battalion HQ at Marble Mountain or from the Americal Division area where we were located.
David Chandler
LTC, U S Army (Retired)
21st RAC Apr - Oct 1970
davidc@yancey.main.nc.us

Visit David Chandler's BLACK ACES site.
---
With all respect
Jim Schueckler, former CW2, US Army
Ken Davis, Commander, United States Navy (Ret)