25 Feb 2003
"The Magnificent Seven"
When last we had contact, I had not yet been to the memorial held on July 20, 2002 at Midwest City HS, for all the boys who perished in Viet Nam in that school district. It was very moving, to say the least.
Attached I am happy to send you a photo of "The Magnificent 7" (self-named, and before the movie! These are the originals!). All were students at MWC HS, and joined the Marines at the same time in 1966. Larry Linduff gave me a copy of this photo, which was also in the Midwest City paper at the time of their induction. I will certainly cherish it always.
They are, from left to right (alternately front and back, zig-zagging), Bill Burke, Randy McElreath, Larry Linduff, Brent Thrasher, Ronnie Satterwhite, Nick Myers, and Pat Onstott. Recruiter unknown.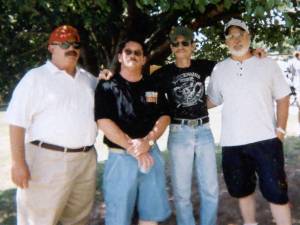 Four of The Magnificent Seven are in this photo I took at the MWC HS memorial in July ... left to right, Ronnie Satterwhite, Brent Thrasher, Bill Burke, and Larry Linduff.
Karen Cross-Boatmun
E-mail address is not available.