You can read a full tribute to Lt McGee at West Point Alumni Association. Part of the tribute notes: " Barry graduated high enough in his class to have his pick of branches. He chose the Infantry, earned his Airborne wings and Ranger tab, volunteered for Viet Nam, and went to war with the 23rd Infantry Division (Americal) on 2 Aug 1970. Wounded in the middle of his tour, he was offered a staff assignment to finish his Viet Nam service. He shunned this offer and pleaded to return to troop duty. During the latter part of his tour, he served as a recon platoon leader, working out of fire support base LZ Mary Ann west of Chu Lai. As might be expected, Barry was a soldier's officer. He led his men well, and they truly respected and liked him. He was committed to his unit and what he had been assigned to do."
"In early March of 1971, he decided to extend his service in Viet Nam for another year; but on 28 March, he was killed in hand-to-hand combat when the fire support base was overrun by North Vietnamese sappers."
"His posthumous Silver Star award citation relates that his company was in its night defensive position at Mary Ann when it came under intense mortar fire and a full-scale North Vietnamese Army sapper attack. During the initial phase, Barry was seriously wounded when satchel charges and grenades hit the bunker he was in. Despite the pain of his multiple injuries, in defense of his troops, Barry left the bunker and attacked, in hand-to-hand combat, two North Vietnamese soldiers. He killed one of them, but as he turned to the other, a barrage of small arms fire mortally wounded him. His exploits became legend in his unit."
Barry is buried in Grand Lawn Cemetery (Section 27, Lot 28, Grave 57), a large cemetery in Detroit, Michigan. His grave is marked with a flat Veterans Administration stone but it tells the visitor nothing about the strength, character, courage, humor, and spirit of this wonderful young man.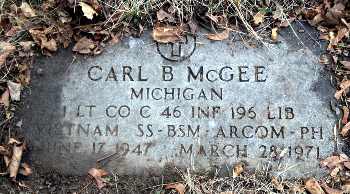 1LT CARL BARRY Mc GEE
- - - The Virtual Wall, April 16, 2014.