During the Vietnam War there was no overriding reason to keep close track of names of the men and women who died as a result of military service in the war zone. A decade after the withdrawal of US forces, the Vietnam Veterans Memorial was approved for construction. The service branches went back through their records to identify our dead by name.
Inevitably some men who should have been named on the "Wall" were not. Over the years additional names have been inscribed on the Wall - some were men who died after the war as a result of wounds received in the war or from disease or illness, and others were men whose names were overlooked in earlier years.
The Department of Defense approved having his name etched on the Wall during May 2016, along with 7 other names. His name was etched as close to the names as possible of those who died the same day where space was found to add his name.
These are the 8 men who were added to the memorial this year:


---
Jim was born in Fort Dodge to Vivian and Paul W McGough and was raised on the farm. He graduated high school and attended college before he went to Vietnam.
Jim was wounded the morning of 8 February 1971 about a kilometer north of highway QL9 and east of the Laotian border in Quang Tri Province moving up Hill 508 during the Lam Son 719 operation. Jim walked a lot of point for 1/C/1-11, but this day others were on point and when this point element suddenly was taken under heavy fire Jim came up to help out and was wounded. He was medevac'd back to "B" Med at Khe Sanh.
Three men from the lead element in that fire fight died that day. They died when Sgt. Lonnie Coleman's squad in the 1st Platoon of Charlie Company, out of Quang Tri Combat Base entered an NVA position concealing a communications relay station on the Laotian border. Enemy intelligence, records and equipments obtained there with their lives saved many American lives participating in the ARVN operation, Lam Son 719. It took a little longer for Jim McGough to die of his wounds. The men who died as a result of that clandestine action were:
C Company, 1st Battalion, 11th Infantry, 1st Brigade, 5th Infantry Division (Mechanized)
Upon Jim's homecoming, he married Sherry Isaacson in Fort Dodge; they made their home in greater Des Moines from 1980 until Jim's death with the exception of three years in the suburban Detroit area.
To give you an idea of what Jim was like and often thought about, here is his letter to The Des Moines Register on Wednesday, June 8, 1994, Page 18. It was 20 years after the death of Gordon Gammack, War Correspondent for the Register. (Read Gordon's story here). He always was thinking of others and was recalling events in Vietnam a few days before he was wounded and sent home:
'One of you guys from Iowa?'
The Iowa Boy's June 2 column ("Kaye Gammack's Own War Story") caused me to pause. "One of you guys from Iowa?" is what I heard as I turned a round from my point position one day in early February 1971. The place was near Khe Sanh, Vietnam. The questioner was none other than Gordon Gammack.
Thus began our conversation that was to be reported in the Feb. 5 edition of the Des Moines Tribune. It was one of many Gordon Gammack reports that brought Vietnam, in print and from an Iowan's perspective, to the homes of Iowans.
Gordon Gammack was special. He asked the kinds of questions that were on the minds of everyone and he reported the war from the human point of view with the politics removed. I can only imagine that we, in the Vietnam War era, were the beneficiaries of the skills and talent that were honed earlier, as Mr. Gammack cut his war-reporting teeth in the European theater and later in Korea.
With the Memorial Day holiday weekend and the 50th anniversary of D-Day behind us, I just want to say that Gordon Gammack and his wife, Kaye, who persevered at home in his absence, arc in my mind two of the many special people to be recognized for their selfless service rendered to Iowans and this nation.
James S. McGough, 233S.W. 42nd St., Des Moines.
---
Jim McGough, 62, died at home on January 3, 2014, surrounded by his wife and daughters. He had been under the devoted care of his family and the staff of Hospice of Central Iowa since December 26.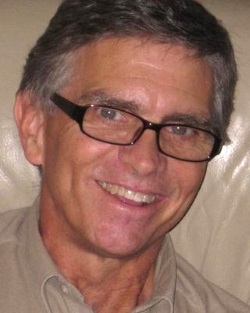 Jim was survived by his loving wife of 42 years, Sherry; and his two daughters: Janelle and Leigh, and his grandchildren. Also surviving was Jim's mother, Veronica (Ronnie) McGough, Fort Dodge; mother-in-law, Collette Isaacson of Des Moines; and sisters Paulette, and Karen and brothers Dan and Doug; and numerous nieces and nephews and great nieces and nephews.
Jim was preceded in death by his father, Paul Wilford McGough (1924-1998); nephew, Grant McGough; and father-in-law, Harley Isaacson (1927-2003).
You can learn more about Jim, his fight with Hepatitis C which he contracted from a blood transfusion on Okinawa, and their memories about Vietnam in Sherry's Facebook page opened April 19, 2014, which discusses her handbook, "Now Comes the Hard Part".
Some have asked how it is that Jim's name was added to the Vietnam Wall. The key: a Vietnam veteran's death has to be traceable directly to combat wounds. Read the April 6th entry about their efforts.
Jim's ashes were buried in the Iowa Veterans Cemetery, Van Meter, Dallas County, Iowa.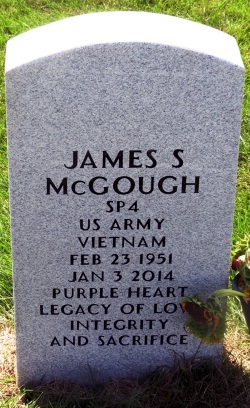 - - - The Virtual Wall, June 15, 2016