During the Vietnam War there was no overriding reason to keep close track of names of the men and women who died as a result of military service in the war zone. A decade after the withdrawal of US forces, the Vietnam Veterans Memorial was approved for construction. The service branches went back through their records to identify our dead by name.
Inevitably some men who should have been named on the "Wall" were not. Over the years additional names have been inscribed on the Wall - some were men who died after the war as a result of wounds received in the war or from disease or illness, and others were men whose names were overlooked in earlier years.
US Marine Corps CPL Kenneth McGuire was wounded (for the third time) in action on September 20, 1968 from a gunshot wound to the right arm. He was evacuated to a hospital in Okinawa, Japan where he died on September 28, 1968. His sister, Kathleen Heglund, began working with House Speaker Paul Ryan's (WI) office to get his name added starting in 2016.
On 23 February 2017, the Department of Defense approved having his name etched on the Wall during May 2017, along with 2 other names. His name was etched at Panel 34W, Line 42 next to PFC Miguel Heredia who was killed January 20, 1969. Had his name been added when the Wall was built, it would have been at Panel 42W, Line 36 between PO2 Joseph D. Lilly and PO2 Dan B. Norten.
These are the 3 men who were added to the memorial this year:
---
Kenneth Rae McGuire grew up in Rib Lake and graduated from the Rib Lake High School. "He was a friendly guy and was liked by everyone who knew him" says his twin sister, Kathy. She recalls he loved baseball, his card collection, and playing basketball in high school. He also liked fishing and was a 'pinsetter' at the local bowling alley.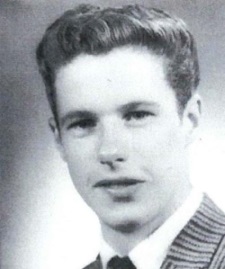 PFC McGuire entered the Marine Corps in October of 1966 in Milwaukee and was sent to San Diego for processing. He then trained through 9 March 1967 at Camp Pendleton California. He was then assigned to Company B, 1st Battalion, 28th Marine Regiment, 5th Marine Division at Camp Pendleton and served as a Rifleman until 2 March 1968 when he was reassigned to Vietnam. He began his tour on 29 February.
After PFC McGuire arrived in country, he served as a Rifleman from 8 Feb to 21 September and participated in OPERATIONS HOUSTON, HOUSTON II, ALLEN BROOK, MAMEDUKE THRUST, OPERATION SUSSEX BAY and MEMEDUKE THRUST again.
He was wounded on April 20, June 11, and September 7th, when he was wounded again for the final time. He was receiving treatment when the doctors diagnosed malaria. He was evacuated from Vietnam on the 21st of September with malaria and bronchial pneumonia.
While there was no doubt that CPL McGuire was a casualty of Vietnam, his name was not included on the "Wall" due to a technicality - the family had always been told that he did not qualify for placement on the Wall because he did not die from his wounds in Vietnam proper.
Executive Order 11216, signed by President Johnson on April 24, 1965 designated Vietnam and adjacent coastal waters by geographical coordinates, as the combat zone. As the zone was expanded, it finally included the designation that any casualties anywhere resulting from the initial event, would be considered as a combat casualty from Vietnam.
Due to the efforts of his 3 sisters, CPL Kenneth Rae McGuire's name was etched on the Vietnam Veterans Memorial Wall in May 2017 in Washingto D.C., giving him the respect and honor the family felt that he deserved all those years ago.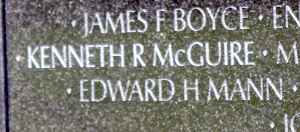 ---
CPL McGuire is buried with his mother Darlene Dorothy Pipgras McGuire (1918-2002) and father Raymond Edward McGuire (1909-1987) at Lakeview Cemetery, Rib Lake, Wisconsin.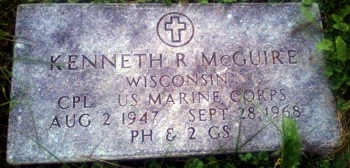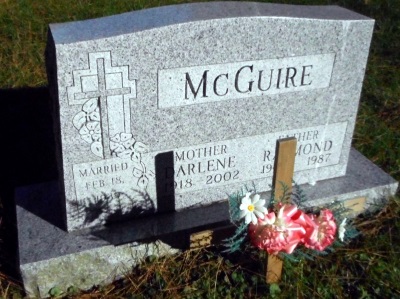 ---
- - - The Virtual Wall, May 7, 2017