7 May 2005

Hey Uncle Wallace! Long time no see - I know I was only 8 when you died but ... I still remember.

Wish you were here today, you would think it's so cool that your face (and info about you) is on the world wide web for everybody to see. I know I do - I'm proud as hell! It was pride that made me join the Corps (and they let me play with ordnance, you believe that?). It was pride that made me post a message on a vets site 30 years after you were gone and guess what? You left an impression on somebody (of course) - Marty found me first, took about a year and half for him to find me but he found me. When I opened up the email and saw the pic he sent with you in it, all I could do was cry, say "Oh my God", shake like a leaf for 30 minutes and think to myself "God, he looks so tired!". I imagine you were.

After that, the rest of the guys started coming out of the woodwork. Uncle Jerry and I got invited to the first reunion they had after all of this got going - he thinks it's cool too. We'll go to as many of them as we can. They don't seem to mind too much that Uncle Jerry was Navy - he's a brother to them now because of you.

I was reading our little hometown newspaper the other day and saw a front page article with a pic of the Vietnam memorial there on Main Street saying that nobody from Union was on The Virtual Wall. It's pride that has me doing this again - you'll be on it now, Marine. I've seen your name on the Wall in DC and I've seen it on the moving Wall and now I'll see it on the virtual one. Ooooh-rah!

It still breaks my heart to think that you were only an 18 year old kid, half a world away, sleeping in the jungle at night (when you could sleep) and trying to dodge ammo all the time. In the letters I read that you wrote, the only thing you were worried about was Granny not going back to work after she broke her arm that time. 18! In the middle of a war! And that was ALL you were worried about! No wonder you left an impression on folks.

I've missed having you in my life all of these years. Tell Chesty "good night sir" (if he's there) and I'll see you at the big house! Semper Fi!

From a niece,
Kimberly Green
diamondgirl_61@hotmail.com



---
COUNTY NATIVE
DIES IN VIETNAM

PFC Wallace Thompson McMakin, 18, died August 12 aboard the USS Sanctuary off the coast of Vietnam as a result of injuries sustained July 21.

He was part of the 1st Marine Division and had served in Vietnam for six months of his year of service.

A graduate of Union High School, he is survived by his mother, Mrs. Rose Lee McMakin, two brothers, and a sister of Rt. 5, Union.

Funeral arrangements are incomplete and will be announced later.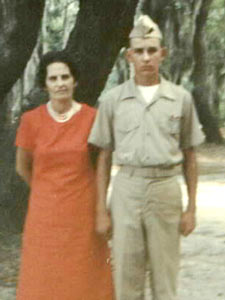 Wallace and his mother the day he graduated from boot camp at Parris Island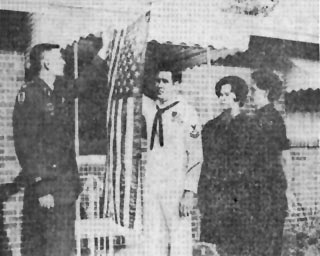 Family awaits arrival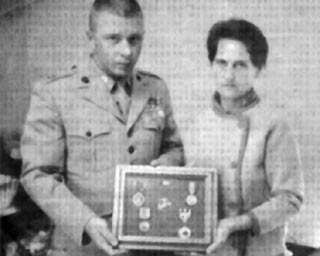 Wallace's mother receives his medals